This set of Basic Drug Biotechnology Questions and Answers focuses on "Gastrointestinal Absorption of Drugs".
1. In cell membrane the hydrocarbon chains for hydrophilic phase and the polar heads form hydrophobic phase.
a) True
b) False
View Answer
Answer: b
Explanation: Hydrocarbon chains are oriented inwards to form hydrophobic phase and their polar heads are oriented to form the outer hydrophilic boundaries of the cell membrane, it surrounds the aqueous environment.
2. Proteins interact with which part of the cell membrane?
a) Hydrophobic tail
b) Polar head
c) Non polar head
d) Hydrophilic tail
View Answer
Answer: b
Explanation: Proteins are always bonded to the polar head part of the cell membrane, which is usually hydrophilic in nature. It is known that the heads are always polar and the tails are nonpolar, i.e hydrophobic in nature.

3. Which part of the membrane is responsible for the relative impermeability of polar molecules in and out of the cell?
a) Polar head
b) Hydrophobic head
c) Hydrophobic core
d) Non polar head
View Answer
Answer: c
Explanation: Hydrophobic core don't bind to any polar compound being hydrophobic, thus it doesn't allow polar compounds to pass through the membranes easily. Heads of phospholipid bi-layer in cell membrane are always polar and tails are non-polar in nature.
4. What helps in the passing of inorganic ions?
a) Ion channels
b) Voltage gated channels
c) Aqueous filled pores
d) Diffusion
View Answer
Answer: c
Explanation: Aqueous filled pores of diameter ranging from 4 to 10 Å helps to pass small organic water-soluble molecules and inorganic ions. These pores have polar amino acid on the inner side of the pore which helps the water-soluble molecules to easily pass through them.
5. The cell membrane is ___________
a) Impermeable
b) Semipermeable
c) Permeable
d) Permeable to only gases
View Answer
Answer: b
Explanation: A cell membrane is always semi permeable that is it permits rapid and limited passage of some of the compounds and restricts other compounds.
6. What is the most important characteristic of a drug to be absorbed after oral administration?
a) Dissolved in HCL
b) Dissolved in alkaline solution
c) Can pass through the cell membrane
d) Form aggregate and settle down
View Answer
Answer: c
Explanation: A drug should not get destroyed by either of acidic or alkaline medium. It must first pass through the biological barrier of cell membrane. Formation of aggregation will decrease its molecular activity.
7. Cell membrane can pass easily Oxygen and Carbon dioxide.
a) False
b) True
View Answer
Answer: b
Explanation: Oxygen being small and nonpolar can easily pass through the membrane and carbondioxide is also small enough to easily diffuse in and out of the cell. Small hydrophobic molecules and small uncharged polar molecules can easily pass through the cell membrane. Larger uncharged polar molecules and ions find it difficult to cross the cell membrane.
8. Which one of these is an example of Enteral Route?
a) Skin
b) IV
c) Gastrointestinal
d) Inhalation
View Answer
Answer: c
Explanation: Enteral routes include oral routes. Thus, the common examples are GI, sublingual/buccal, rectal. IV comes under the parenteral route. Skin and Inhalation are examples of the Topical route.
9. Gastrointestinal route is an example of which of the major drug delivery routes?
a) The enteral route
b) The parenteral route
c) The topical route
d) The intravenous route
View Answer
Answer: a
Explanation: The enteral route includes delivery peroral. The parenteral route involves routes of administration through skin or under layers of skin. The topical route involves eyes, skins, nose, or other membranes.
10. The following image is a basic representation of cellular membrane, choose whether the markings are true or false?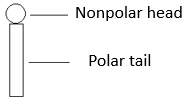 a) True
b) False
View Answer
Answer: b
Explanation: The head is phosphate containing polar or hydrophilic. The tail is non polar carbon tail or hydrophobic. The phospholipid bilayer of a cell membrane is composed of such lipids with polar head and non-polar tail.
Sanfoundry Global Education & Learning Series – Drug and Pharmaceutical Biotechnology.
To practice basic questions and answers on all areas of Drug Biotechnology, here is complete set of 1000+ Multiple Choice Questions and Answers.
Participate in the Sanfoundry Certification contest to get free Certificate of Merit. Join our social networks below and stay updated with latest contests, videos, internships and jobs!