This set of Mathematics Multiple Choice Questions & Answers (MCQs) focuses on "Intersecting & Non-intersecting Lines".
1. In the diagram shown below, pair of lines PQ and RS are __________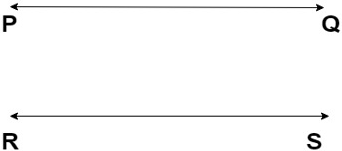 a) perpendicular
b) parallel
c) intersecting
d) non intersecting
View Answer
Answer: b
Explanation: It can be seen in the diagram that given lines don't intersect with each other, hence they are parallel lines.

2. From the diagram shown below, what is the relation between ∠POS and ∠ROQ?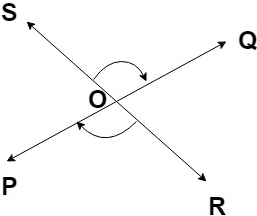 a) ∠POS > ∠ROQ
b) ∠POS < ∠ROQ
c) ∠POS = ∠ROQ
d) ∠POS = 2∠ROQ
View Answer
Answer: c
Explanation: According to theorem 6.1, if two lines intersect each other then vertically opposite angles are equal.
In the given diagram, ∠POS and ∠ROQ are vertically opposite angles, hence they are equal according to theorem 6.1.

Sanfoundry Global Education & Learning Series – Mathematics – Class 9.
To practice all areas of Mathematics, here is complete set of 1000+ Multiple Choice Questions and Answers.
Participate in the Sanfoundry Certification contest to get free Certificate of Merit. Join our social networks below and stay updated with latest contests, videos, internships and jobs!