This set of Engineering Materials and Metallurgy MCQs focuses on "Fibre Reinforced Composites & Other Composites".
1. The continuous phase of a composite material is known as its _______
a) dispersed phase
b) surrounding phase
c) matrix phase
d) fiber phase
View Answer
Answer: c
Explanation: Composite materials contain mostly two phases: matrix and dispersed phase. Matrix phase is a continuous phase which tends to bind the fibers together. It also protects them from damage and is used to transmit the load.
2. Which of the following structures represents that of a fiber composite?
a)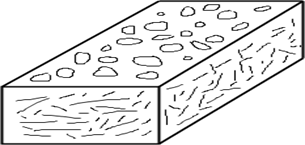 b)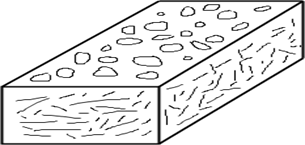 c)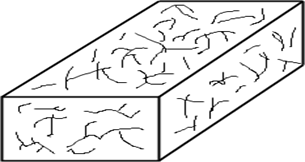 d)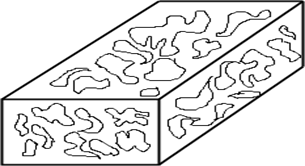 View Answer
Answer: c
Explanation: Fiber-reinforced composites are those which contain fiber form in its dispersed phase. When these fibers are parallel to each other, they exhibit high strength.
3. How is the critical length or a composite material defined?
a)


b)


c)


d)


View Answer
Answer: b
Explanation: The critical length of a material is determined using the diameter of the fiber, ultimate strength, and its yield strength. The critical length of the fiber is required for strengthening of the composite materials.
4. The classification of fibers having thin crystals is known as _______
a) Whisker
b) Fiber
c) Wires
d) Matrix
View Answer
Answer: a
Explanation: Whiskers are thin single crystals having an extremely large length-to-diameter ratio. Due to their small size, they have high crystalline perfection. Fibers are polycrystalline materials of small diameters, whereas wires have large diameters.
5. Which of the following materials are common for whiskers?
a) Graphite, silicon carbide
b) Glass, boron
c) Steel, tungsten
d) Polymers, ceramics
View Answer
Answer: a
Explanation: Whiskers are single crystals having large ratios of length to diameter. The common materials are graphite, silicon nitride, aluminum oxide etc. Glass and boron fall under the category of polymers of fibers. Steel, tungsten, and molybdenum are commonly used as wires.
6. Kevlar is a ______ type of material.
a) Glass
b) Thermoplastic
c) Whisker
d) Polymer
View Answer
Answer: d
Explanation: Kevlar is a polymer type of fiber material. Kevlar-epoxy and Kevlar-polyester are common fiber reinforced composites commonly used in aerospace applications, sports goods, flak jackets etc.
7. Which of the following is not a characteristic trait of composite materials?
a) High strength, toughness, modulus
b) Lightweight
c) Easy to assemble
d) Sensitive to temperature change
View Answer
Answer: d
Explanation: Composite materials have great mechanical properties, corrosion resistance, are easy to assemble, and light in weight in case of fiber composites. They aren't very sensitive to thermal shocks and temperature changes. However, they are more expensive than conventional materials.
8. How much SiO2 is present in the glass which is drawn into fibers?
a) 55%
b) 15%
c) 10%
d) 4%
View Answer
Answer: a
Explanation: Glass which is rolled into thin fibers is known as E-glass. This glass contains 55% of SiO2 and Al2O3(15%), B2O32 (10%), and MgO (4%). It is quite the preferred type of fiber-reinforcement material.
9. Fiberglass materials have a usable temperature up to ______
a) 50oC
b) 100oC
c) 200oC
d) 500oC
View Answer
Answer: c
Explanation: Fiberglass materials have a low service temperature which is below 200oC. This is despite the fact that they usually have high strength. These materials also have a great impact resistance and are extremely flexible.
10. What is the purpose of fiberglass that is made as a thread?
a) Insulating material
b) Conductive material
c) Heat resistant
d) Cloth
View Answer
Answer: d
Explanation: Fiberglass is either made into a staple or thread. The thread type is used to make cloth for various applications. It is also colored and can be manufactured by a continuous process. Staple type (up to 15 inches long), on the other hand, is used as an insulating material.
11. The below figure depicts the structure of ________ composite materials.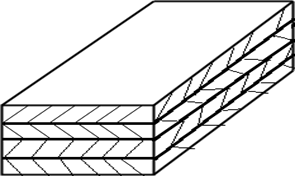 a) Discontinuous
b) Aligned
c) Laminate
d) Dispersion-strengthened
View Answer
Answer: c
Explanation: A laminar composite is a subcategory type of structural composites with a varying orientation for each layer. These composite materials are used for their high strength.
12. The below figure is an example of ______ type of structural composites.


a) Laminar
b) Sandwich panel
c) Discontinuous
d) Randomly oriented
View Answer
Answer: b
Explanation: Sandwich panels are a type of structural composites having a low-density material covered by layers of high-density material on its faces. Aluminum alloys and fiber-reinforced plastics are commonly used as face materials which bear the load. Randomly oriented composite is a type of discontinuous composite, which itself is a type of fiber-reinforced composite.
13. Manufacturing of components having continuous lengths and the constant cross-sectional shape is done by _____ process.
a) Roving
b) Pultrusion
c) Curing
d) Pulling
View Answer
Answer: b
Explanation: Pultrusion is a process used to fabricate continuous fiber-reinforced plastics. By this method, they can work at high production rates, thereby making it less expensive. It is also easily automated.
14. What amount of principle reinforcement materials is used in pultrusion process?
a) 10-20%
b) 25-35%
c) 40-70%
d) 75-90%
View Answer
Answer: c
Explanation: The principle reinforcements used in pultrusion process are glass, carbon and aramid fibers. These are added in concentrations between 40 to 70%. The matrix materials used are polyesters, vinyl esters, and epoxy resins.
Sanfoundry Global Education & Learning Series – Engineering Materials & Metallurgy.
To practice MCQs on all areas of Engineering Materials and Metallurgy, here is complete set of 1000+ Multiple Choice Questions and Answers.