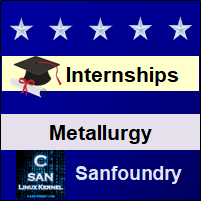 Sanfoundry located at Bangalore offers internships to deserving B.Tech/M.Tech Students in Metallurgical Engineering Branch. In Metallurgical Engineering internships offered by Sanfoundry, shortlisted interns will be working towards the creation of useful artifacts like questions and answers, tutorials, articles, real-world problems and solutions on Metallurgical Engineering. Moreover, every intern working on Metallurgical Engineering internship will focus on one specific subject under the Metallurgical branch. This will help the intern to develop an in-depth understanding of that particular subject in their branch.
Here's the list of topics for Internship in "Metallurgical Engineering".
Machine Design
Engineering Materials and Metallurgy
Mechanical Behaviour & Testing of Materials
Foundry & Forging
Machine Drawing
Corrosion and Environmental Degradation of Materials
Creep, Fatigue and Fracture
Transport Phenomena In Metallurgical Processes
Deformation and Fracture Behaviour of Materials
Deformation Behaviour of Materials
Economics
Alloy Steel Making and Ferroalloys
Electro-Chemistry and Corrosion
Thermodynamics of Materials
Extraction of Non-Ferrous Metals
Fluid Flow and Heat Transfer
Foundry Metallurgy
Fuels and Combustion
Environmental Geology
X-Ray Diffraction and Transmission Electron Microscopy
Industrial Management and Engineering Economics
Applied Electronics and Instrumentation
Iron Making
Iron Making and Steelmaking
Testing of Materials
Material Characterization
Material Engineering
Materials Processing
Steel Making
X-ray Diffraction
Advance Mechanical Working of Materials
Metal Joining and Powder Metallurgy
Metal Working Processes
Metallurgical Thermodynamics and Kinetics
Numerical Analysis
Partial Differential Equations
Phase Transformation and Heat Treatment of Materials
Physical Metallurgy – I
Physics of Metals
Principles of Extractive Metallurgy
Probability and Stochastic Processes
Science of Living System
Solid state Phase Transformation Processes
Computer Applications in Metallurgical Processes
Basic Electronics
Chemical Kinetics and Mass Transfer
Casting-Forming-Welding I
Casting-Forming-Welding II
Advance Characterisation Techniques
Advance Ferrous Extractive Materials and Metallurgy
Advanced Ferrous Materials
Advance Phase Transformations
Aircraft Materials and Processes
Atomistic Modelling of Materials
Biomaterials
Casting and Solidification
Ceramic Materials
Special Coating Technology
Composite Materials
Computational Transport Phenomena
Defects and Diffusion in Crystalline Solids
Design and Selection of Materials
Design and Diffusion in Metallurgical Processes
Energy Materials
Extractive Metallurgy of Non-Ferrous Metals
Grain Boundaries and Interfaces
Theory of Metallurgical Processes
Introduction to Nano-Science and Technology
Joining of Metals
Light Metals and Alloys
Magnetism and Magnetic Materials
Advance Mechanical Behaviour of Materials
Metallurgical Failure Analysis
Mineral and Particle Technology
Nano-Structured Materials
Non Destructive Testing
Physics of Materials
Polymer Technology
Powder Metallurgy
Quantum Methods in Molecular Simulations
Rubber and Rubber Like Materials
Semiconducting and Magnetic Materials
Solar Energy Materials
Stochastic Modelling of Materials
Surface Engineering
Texture in Materials Engineering
Engineering Physics
Engineering Mechanics
Engineering Drawing
Environmental Science and Engineering
Data Structure – 1
Data Structure – 2
Manufacturing Engineering
Manufacturing Processes
Strength of Materials
Applied Chemistry
Computers Programming
Heat Treatment of Metals
Advance Engineering Drawing
Basic Engineering Drawing
Mathematics-I
Mathematics-II
Mathematics-III
Mathematics-IV
Computer Programming
Engineering Drawing and Computer Graphics
Physics-I
Physics-II
Electrical Technology
Chemistry – I
Chemistry – II
Chemistry – III
Sanfoundry is looking for Interns who are passionate about their field of study and like core subjects in Metallurgical Engineering. Every intern contributes to Sanfoundry's Global learning project during their internship and is Mentored and Guided by our
Founder and CTO
. If you are interested to contribute and apply,
here's full detail of Sanfoundry's Internship Program
.

Sanfoundry Global Education & Learning Series – Metallurgical Engineering Internships!
Participate in the Sanfoundry Certification
contest
to get free Certificate of Merit. Join our social networks below and stay updated with latest contests, videos, internships and jobs!