This is a PLC Program to Control Lights in a Sequence (2).
Problem Description
Implement controlling of various lights in PLC using Ladder Diagram programming language using Bit Shift Registers.
Problem Solution
Define order of lights.
Use Bit Shift Registers to implement any sequence of lights.
Double check if the order of light is made correctly and connections are made properly.
Use latching coil for Master Start and Stop for prevention against malfunctioning.
0.1 Time Base function availability is useful to shift register bits very quickly.
By using this, we can make lights blink.
Check if bit addresses provided to Light output addresses are correctly chosen or not.
Provide 16bit of length to Bit Shift Register, by adding this total 16 number of lights can be controlled.
This limitation can be overcome by using more than one registers or with same length, more than one shift registers.
PLC Program
Here is PLC program to Control Lights in a Sequence, along with program explanation and run time test cases.
List of Inputs and Outputs
 I:1/0	= Master Start			(Input)
 B3:0	= Altering Register		(Output Register)
 R6:0	= Control Register		(Storing Register)
 R6:0/UL= Used for Wraparound operation	(Unload Bit)
 B3:0/0	= Bit input to Output 0		(Input Bit)
 O:2/0	= Output 0			(Output) 
 B3:0/1	= Bit input to Output 1		(Input Bit)
 O:2/1	= Output 1			(Output)
 B3:0/2	= Bit input to Output 2		(Input Bit)
 O:2/2	= Output 2			(Output)
 B3:0/3	= Bit input to Output 3		(Input Bit)
 O:2/3	= Output 3			(Output)
 T4:0	= Timer	to shift bits		(Timer)
Ladder Diagram to solve this problem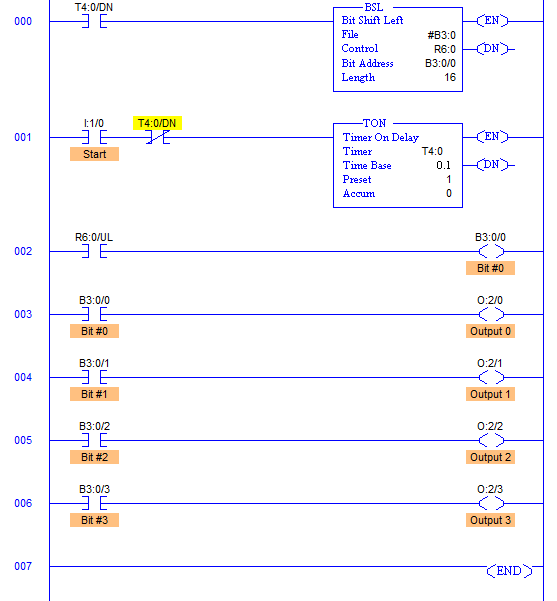 Program Description
Here as it can be observed in the Ladder Diagram, Outputs are controlled by the bits set in the register B3:0.
This outputs are controlled in accordance to shifting of bits from Right to Left.
This shifting is controlled by Timer T4:0.
Timer is set to auto reset mode by setting XIO T4:0/DN bit of the same timer to its input.
Master Start is included as well. This controls the entire process. This has to be a toggle switch otherwise latching rung is used in case Push Buttons are available and one more Stop PB must be added to Master Stop.
Whenever Timer Done bit is set, that bit sends False to True signal to Bit Shift Register which performs Shifting of bits to Left.
Time delay is 0.1secs here, so that shifting is real quick.
Length indicates the number of bits to be shifted, or the file length in, in bits.
The Last bit is shifted out of the array and stored in the unload bit, R6:0/UL. The status that was previously in the unload bit is lost. So for wraparound condition, last bit of the array B3:0/0 is set to the position to the UL bit.
After every 0.1secs, bits are shifted and orders outputs are controlled.
The sequence of this outputs can be set by setting sequence of bits in the register B3:0 manually or automatically storing sensors' outputs.
Runtime Test Cases
Bits are shifted and Outputs are changed after every 0.1secs.
Outputs are true in the sequence and go false in the same sequence if this bit pattern in the Register B3:0 is followed.
You can set your own pattern and operate outputs accordingly.
Sanfoundry Global Education & Learning Series – PLC Algorithms.
To practice all PLC programs, here is complete set of 100+ PLC Problems and Solutions.