This is a PLC Program to Control Spray-Painting of Parts.
Problem Description
Control Spray-Painting operation in PLC using Ladder Diagram programming language.
Problem Diagram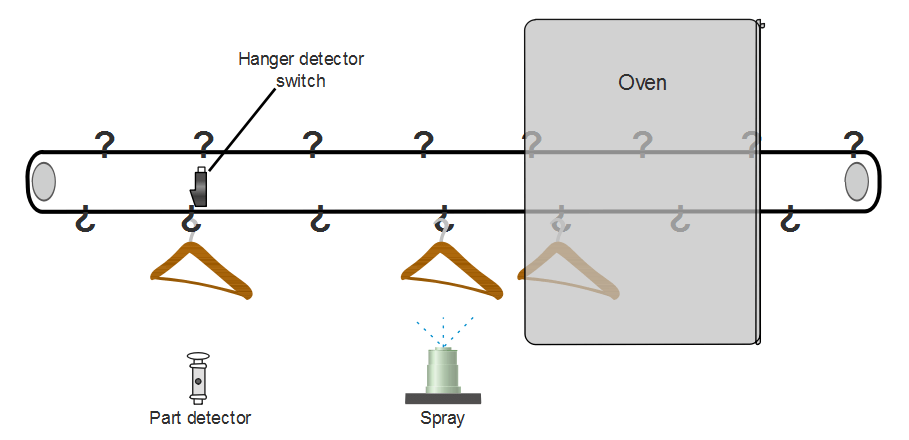 Problem Solution
Spray-Paining operation is similar to the bottle capping operation. The only difference is that Bottle Capping operation used timers while Spray-Paining operation do not require timers.
Two limit switches are used, one to detect hangers and other to detect parts.
Both are mounted exactly opposite to each other so that when part is not present, outputs are complement of each other.
Bit shift register is used to spray parts.
Oven is used to dry the parts after they are sprayed. This output is continuously ON and is not controlled.
PLC Program
Here is PLC program to Control Spray-Painting of Parts, along with program explanation and run time test cases.
List of Inputs and Outputs
 I:1/14	= Start					(Input)
 I:1/15	= Stop					(Input)
 I:1/0	= Limit switch (Hanger)			(Input)
 I:1/1	= Proximity (Part detection)		(Input)
 O:2/0	= Master coil / Run			(Output)
 O:2/1	= Oven					(Output)
 O:2/2	= Spray					(Output)
 BSL	= Bit shift left instruction		(Logical)
 B3:0	= Bit shift Register			(Register)
 B3:0/2	= Bit to energize capping machine	(Bit)
 R6:0	= Control register			(Register)
Ladder Diagram to operate Spray-Paining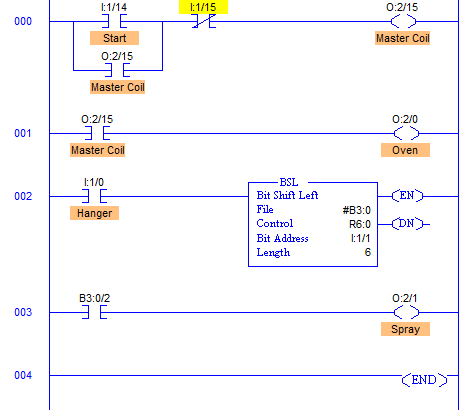 Program Description
When Start PB is pressed, Oven with address O:2/0 is started.
RUNG002 and RUNG003 are used to operate bit shift register and Spray with address O:2/1.
I:1/0 and I:1/1 are mounted such that they are detected together. When Part is present, I:1/0 and I:1/1 both goes high setting bit B3:0/0. Shifting of this itself is operated by I:1/0 Hanger switch. So every time a hanger is detected, bit is shifted left.
From proximity to capping machine, station distance is 3 steps. Hence bit B3:0/2 of B3:0 register operates spray solenoid.
R6:0 is a control register where all the operations are handled.
Runtime Test Cases
Inputs	           Output	Physical Elements
I:1/14 = 1	   O:2/0 = 1	Turn ON oven
I:1/0 = 1	   BSL = 1	Shift bit to left
I:1/0 = I:1/1 = 1  B3:0/0 = 1	Set bit to operate Spray
B3:0/2 = 1         O:2/1 = 1	Activate spray
Sanfoundry Global Education & Learning Series – PLC Algorithms.
To practice all PLC programs, here is complete set of 100+ PLC Problems and Solutions.