Mechanical Operations Questions and Answers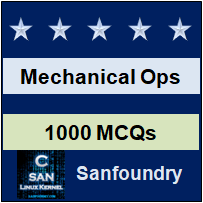 Our 1000+ Mechanical Operations questions and answers focuses on all areas of Mechanical Operations subject covering 100+ topics in Mechanical Operations. These topics are chosen from a collection of most authoritative and best reference books on Mechanical Operations. One should spend 1 hour daily for 2-3 months to learn and assimilate Mechanical Operations comprehensively. This way of systematic learning will prepare anyone easily towards Mechanical Operations interviews, online tests, examinations and certifications.
Highlights
– 1000+ Multiple Choice Questions & Answers in Mechanical Operations with explanations
– Every MCQ set focuses on a specific topic in Mechanical Operations Subject
Who should Practice these Mechanical Operations Questions?
– Anyone wishing to sharpen their knowledge of Mechanical Operations Subject
– Anyone preparing for aptitude test in Mechanical Operations
– Anyone preparing for interviews (campus/off-campus interviews, walk-in interview and company interviews)
– Anyone preparing for entrance examinations and other competitive examinations
– All – Experienced, Freshers and Students
Here's list of Questions & Answers on Mechanical Operations Subject covering 100+ topics:
1. Questions & Answers on Size Reduction
The section contains questions and answers on solid properties, particle sizes, size reduction and its mechanism, energy utilization, crushing efficiency, size reduction energy and equipment's, crushers, intermediate and fine crushers, ball mill and its advantages, tumbling mill action, ultra fine grinders, colloid mill, cutting machines, equipment and crushers operations, open and closed circuit grinding and operations.
2. Questions on Mechanical Separation
The section contains questions on mechanical separation basics, solid separation by screening, screens, screening equipment's, solid particles classification, magnetic separation, electrostatic separator, floatation, sedimentation, thickeners and cyclone separators.
3. Questions & Answers on Filtration
The section contains questions and answers on filtration basics and theory, relation between cake thickness and filtrate, liquid flow through cloth, filtrate flow through cake and cloth, compressible filter cakes, pressure filters, optimum time cycle, filter press advantages, leaf and rotary filters, horizontal belt and prayon continuous filters, construction materials, equipment's, critical speed and centrifuge filtration.
4. Questions on Mixing
The section contains questions on mixing basics and equipment, impellers properties, propeller, open and shrouded turbine, paddle, draft tubes, flow, power, entrainment, flow patterns, interpretation, baffles, impeller location, turbine design, power requirements, solids and dry powder mixing, blending granular solids and rate of mixing.
Mixing Basics
Mixing Equipments
Properties of Impellers
Propeller
Open Turbine
Shrouded Turbine
Paddle
Draft Tubes
Flow
Power
Entrainment
Flow Patterns
Scale Up and Interpretation
Baffles
Impeller Location
Standard Turbine Design
Mixing of Pastes and Viscous Materials (Equipments)
Power Requirements
Mixing Index
Mixing of Solids
Mixers of Dry Powders
Mixing Index in Blending Granular Solids
Rate of Mixing
5. Questions & Answers on Fluid-Solid System
The section contains questions on fluidization and its types, fluidized system characteristics, solids flow through particle, fluidization velocity, spherical particles, fluidisation applications and hindered setting.
Fluidization
Characteristics of Fluidized System
Minimum Fluidisation Velocity
Types of Fluidization
Applications of Fluidisation
Flow of Solids Through Particle
Drag Force on Spherical Particle
Terminal Falling Velocities of Spherical Particles
Terminal Falling Velocities of Non-Spherical Rigid Particle
Hindered Setting
6. Questions on Handling of Solid
The section contains questions on bulk solid nature, conveyors, belt conveyors and its design, belt construction, handling solid basics, chain and flight conveyors, belt speed selection, drag and flight conveyors construction, en-masse and screw conveyors, pneumatic conveyors and its design.
The Nature and Characteristics of Bulk Solid
Introduction to Conveyors
Belt Conveyors
Belt Construction
Belt Conveyor Design
Selection of Belt Speed
Chain and Flight Conveyors
Handling Solid Introduction
Construction of Drag Conveyors
Construction of Flight Conveyors
En-Masse Conveyors
Screw Conveyors
Pneumatic Conveyors
Design of Pneumatic Conveyors
General Design Procedure
If you would like to learn Mechanical Operations thoroughly, you should attempt to work on the complete set of questions and answers mentioned above. It will immensely help anyone trying to crack an exam or an interview.
Wish you the best in your endeavor to learn and master Mechanical Operations!