Fluidization Engineering Questions and Answers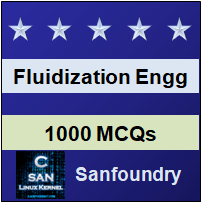 Our 1000+ Fluidization Engineering questions and answers focuses on all areas of Fluidization Engineering subject covering 100+ topics in Fluidization Engineering. These topics are chosen from a collection of most authoritative and best reference books on Fluidization Engineering. One should spend 1 hour daily for 2-3 months to learn and assimilate Fluidization Engineering comprehensively. This way of systematic learning will prepare anyone easily towards Fluidization Engineering interviews, online tests, examinations and certifications.
Highlights
– 1000+ Multiple Choice Questions & Answers in Fluidization Engineering with explanations
– Every MCQ set focuses on a specific topic in Fluidization Engineering Subject
Who should Practice these Fluidization Engineering Questions?
– Anyone wishing to sharpen their knowledge of Fluidization Engineering Subject
– Anyone preparing for aptitude test in Fluidization Engineering
– Anyone preparing for interviews (campus/off-campus interviews, walk-in interview and company interviews)
– Anyone preparing for entrance examinations and other competitive examinations
– All – Experienced, Freshers and Students
Here's list of Questions & Answers on Fluidization Engineering Subject covering 100+ topics:
1. Questions & Answers on Introduction
The section contains questions and answers on fluidization operations types, heat exchanger, transportation and mixing of fine powder.
2. Questions on Particles and Fluidization
The section contains questions on plastic materials coating, particle growth, drying and sizing, adsorption and synthesis reactions.
3. Questions & Answers on Industrial applications of fluidized beds
The section contains questions and answers on industrial applications of fluidized bed, fluid catalytic cracking and reforming, fluid coking, thermal cracking, charcoal activation, limestone calcination, dolomite, carbonization of coal and coke, cement clinker, roasting of sulphide ores and iron oxides reduction.
4. Questions on Fluidization and mapping of regimes
The section contains questions on size of particles, minimum fluidizing velocity, terminal velocity of particles, pressure drops in fluidized beds, distributor, voidage, viscosity and fluidity of fluidized bed, transport disengaging height and size distributions.
5. Questions & Answers on Bubbles in dense bed
The section contains questions and answers on power consumption, single rising bubble, ordinary bubbling beds, individual particles movement and rate of solids.
Power Consumption
Single Rising Bubble
Bubbles in Ordinary Bubbling Beds
Movement of Individual Particles
Turnover Rate of solids
6. Questions on Two – Phase Theory of fluidization
The section contains questions on time distribution of solids, diffusion model, bubbles causing, emulsion phase, interpretation of solid mixing data.
Residence Time Distribution of Solids
The Diffusion Model for Movements of Solids
Mixing Caused by Bubbles
The Bubbling Bed Model for the Emulsion Phase
Interpretation of Solids Mixing Data
7. Questions & Answers on Solids Movement, Mixing, Segregation and staging
The section contains questions and answers on axial and lateral dispersion of solids, diffusion models for gas flow, gas effects by solids, ideal mixing stage model, two region models, bubbling bed model, axial and radial dispersion of gas.
Axial Dispersion of Solids
Lateral Dispersion of Solids
Diffusion Model for Gas Flow
Effect of Gas Captured by Solids on Axial Dispersion Coefficient
Ideal Mixing Stage Model
Two Region Models
Bubbling Bed Model for Gas Interchange
Radial Dispersion of Gas
Axial Dispersion of Gas
8. Questions on Transport Effects in Fluidized Systems
The section contains questions on time distribution of gas, heat transfer rate and catalytic conversion from bubbling bed model, conversions of emulsion gas, contacting efficiency and successive reaction applications.
Residence Time Distribution of Gas
Mass Transfer Rate from Bubbling Bed Model
Distribution of Solids among the Bubble, Cloud and Emulsion Regions
Heat Transfer Rate from Bubbling Bed Model
Catalytic Conversion from the Bubbling Bed Model
Conversion for Downflow of Emulsion Gas
Conversion for Upflow of Emulsion Gas
Contacting Efficiency
Application to Successive Reactions
9. Questions & Answers on Fluidized Bed Heat Transfer
The section contains questions and answers on controlling of bubble size, heat transfer rate, heat transfer to immersed tubes and objects, containing vessel and bed wall heat transfer theories.
Control of Bubbling Size, Baffling and Scale-Up
Variables Affecting the Heat Transfer Rate
Heat Transfer at Wall of the Containing Vessel
Heat Transfer to Immersed Tubes
Heat Transfer to Immersed Objects
Theories for Bed-Wall Heat Transfer
10. Questions on Circulation Systems
The section contains questions on tdh single size and size distribution of solids, elutriation, circulation rate for deactivating catalyst and heat removal rate, pressure drop in stick-slip and aerated flow, horizantal and vertical pipes, minimum gas velocity for horizantal and vertical flows, pressure drop in pneumatic conveyors and bends.
Entrainment at or Above the TDH-Single Size of Solids
Entrainment at or Above the TDH-Size Distribution of Solids
Elutriation
Circulation Rate for Deactivating Catalysts
Circulation Rate for a Required Heat Removal Rate
Pressure Drop in Stick-Slip Flow
Pressure Drop in Aerated Flow
Downward Discharge from a Vertical Pipe
Flow in Horizontal Pipe
Flow from Orifices in the Side of Fluidized Beds
Aerated Flow form Vessel to Vessel
Flow of Low Bulk Density Mixtures
Minimum Gas Velocity for Horizontal Flow
Minimum Gas Velocity for Vertical Flow
Minimum Gas Velocity in Inclined Pipes
Pressure Drop in Pneumatic Conveyors
Pressure Drop in Bends
11. Questions & Answers on Design of fluidized bed systems
The section contains questions and answers on physical operations, batch operations, continuous operations, hot gases quencing, bench scale and pilot plant reactors, deactivating catalyst, regenerator and reactor regenerator system, design of noncatalytic gas reactors, kinetic models, noncatalytic gas phase reactions, conversion of solids and gases.
Information Needed for Design of Physical Operations
Batch Operations-Heat Transfer
Batch Operations-Mass Transfer
Batch Operations-Drying of Solids
Continuous Operations-Heat Transfer
Continuous Operations-Mass Transfer
Continuous Operations-Drying of Solids
Quencing of Hot Gases in a Bed
Informations from Bench-Scale Reactors
Pilot Plant Reactors
Pilot Plant and Commercial Plant Design Decisions
Design Calculation for a Reactor Without Recirculation of Solids
Deactivating Catalyst
Regenerator System with Circulating Catalyst
Design of Noncatalytic Gas-Solid Reactors
Kinetic Models for the Conversion of Solids
Conversion of Solids of Uniform Size
Conversion of Both Gas and Solids
Conversion of Solids of Nonuniform Size
Reactor-Regenerator System with Solids of Changing Size
Noncatalytic Gas-Phase Reactions
If you would like to learn Fluidization Engineering thoroughly, you should attempt to work on the complete set of questions and answers mentioned above. It will immensely help anyone trying to crack an exam or an interview.
Here's the list of Best Reference Books in Fluidization Engineering.
Wish you the best in your endeavor to learn and master Fluidization Engineering!