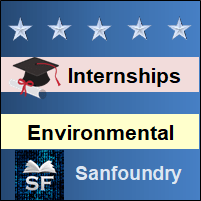 Sanfoundry offers internships to students of the Environmental Engineering branch. The shortlisted interns will be working towards the creation of useful artifacts like questions and answers, tutorials, as well as solving problems in Environmental Engineering. Read frequently asked questions on our internship here and then apply for the internship in the subject of your choice below.
Internships in Core Environmental Engineering Subjects
Environmental Chemistry
Estimation and Costing
Environmental Health and Safety
Environmental Impact Assessment
Environmental Equipment and Instruments
Design of Environmental Engineering Structures
Industrial Wastewater Management
Air and Noise Pollution Control
Hydrology and Water Resources Engineering
Municipal Solid Waste Management
Structural Design
Environmental Engineering Internships on Elective Subjects
Climate Change, Adaptation and Mitigation
Resource Recovery from Waste
Fundamentals of Nano Science
Environmental Toxicology
Construction Materials
Soil and Groundwater Remediation
Coastal Zone Management
Fate and Transport of Contaminants
Internships on Advanced Topics in Environmental Engineering
Air and Water Quality Modeling
Wastewater Treatment Plants
GIS for Environmental Engineering
Urban and Rural Sanitation
Sustainable Development
Environmental Policy and Legislations
Environmental Microbiology
Water Supply Engineering
Environmental Risk Management
Drainage Engineering
Environmental Sanitation
Solar and Wind Energy Engineering
Here is full detail of Sanfoundry Internship Program.
Participate in the Sanfoundry Certification
contest
to get free Certificate of Merit. Join our social networks below and stay updated with latest contests, videos, internships and jobs!