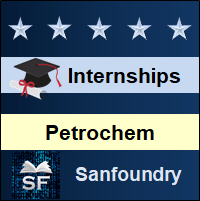 Sanfoundry offers internships to students of the Petrochemical Engineering branch. The shortlisted interns will be working towards the creation of useful artifacts like questions and answers, tutorials, as well as solving problems in Petrochemical Engineering. Read frequently asked questions on our internship here and then apply for the internship in the subject of your choice below.
Internships in Core Petrochemical Engineering Subjects
Petroleum Exploration and Exploitation Techniques
Natural Gas Engineering
Mechanical Operations
Petroleum Primary Processing Technology
Petroleum Secondary Processing Technology
Catalytic Reaction Engineering
Process Instrumentation, Dynamics and Control
Process Equipment Design and Drawing
Pipeline and Welding Technology
Petrochemical Engineering Internships on Elective Subjects
Petrochemical Unit Processes
Instrumentation and Instrumental Analysis
Non-Conventional Hydrocarbon Sources
Design of Pressure Vessels and Piping
Drilling and Well Engineering
Production Engineering
Transport Phenomena
Chemical Process Design
Enhanced Oil Recovery
Process Modeling and Simulation
Internships on Advanced Topics in Petrochemical Engineering
Petroleum Process Equipment Auxiliaries
Multicomponent Distillation
Petroleum Corrosion Technology
Refinery Process Design
Storage Transportation of Crude Oil and Natural gas
Reservoir Characterization and Modeling
Petrochemical Derivatives
Petroleum Economics
Design of Heat Exchangers
Plant Safety and Risk Analysis
Safety in Chemical Industries
Here is full detail of Sanfoundry Internship Program.
Participate in the Sanfoundry Certification
contest
to get free Certificate of Merit. Join our social networks below and stay updated with latest contests, videos, internships and jobs!