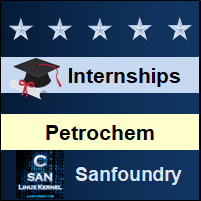 Sanfoundry located at Bangalore offers internships to deserving B.Tech/M.Tech Students in Petrochemical Engineering Branch. In Petrochemical Engineering internships offered by Sanfoundry, shortlisted interns will be working towards the creation of useful artifacts like questions and answers, tutorials, articles, real-world problems and solutions on Petrochemical Engineering. Moreover, every intern working on Petrochemical Engineering internship will focus on one specific subject under the Petrochemical branch. This will help the intern to develop an in-depth understanding of that particular subject in their branch.
Here's the list of topics for Internship in "Petrochemical Engineering".
Applied Numerical Methods
Basic Electrical Engineering
Basic Electronics Engineering
Catalyst Design and Catalysis
Chemical Process Calculations
Chemical Reaction Engineering Analysis
Chemical Engineering Thermodynamics
Water Treatment and Management
Electrical Drives and Control
Engineering Thermodynamics
Environmental Science and Engineering
Equipment Design and Drawing-I
Equipment Design and Drawing-II
Fluid Mechanics
Fluidization and Mixing
Health, Safety & Environment Management
Heat Transfer
Heat Transfer Processes
Industrial Chemical Technology
Computational Transport Phenomena
Instrumentation & Control
Instrumentation and Instrumental Analysis
Introduction to Petrochemical Operations
Mass Transfer I
Mass Transfer II
Mass Transfer Operations I
Mass Transfer Operations II
Material Science
Materials Technology
Mechanical Operations
Thermodynamics of Liquid & Liquid Mixtures
Natural Gas Engineering
Transforms and Partial Differential Equations
Numerical Methods
Organic Chemistry
Particulate Technology
Petrochemical Processes
Petrochemical Refining & Petrochemicals Technology
Petrochemical Refining Equipment Design
Petrochemical Refining Process Design
Petrochemical Unit Processes
Transport Phenomena
Petroleum Exploration and Exploitation Techniques
Petroleum Secondary Processing Technology
Physical Chemistry
Pipeline Transportation of Oil & Gas
Plant Design Economics
Polymer Engineering
Process Dynamics and Control
Process Engineering Economics
Refinery Process Design
Safety and Risk Management
Strength of Materials
Thermodynamics & Heat Engines
Artificial Intelligence
Bioprocess Engineering
Catalysis Technology
Colloidal and Interfacial Science
Computational Fluid Dynamics
Energy Engineering
Energy Management in Chemical Industries
Fertilizer Technology
Financial Engineering
Flow Assurance
Fluidization Engineering
Green Technology
Industrial management
System Analysis & Optimization
Natural Gas Engineering
Novel Separation Processes
Petrochemical Refining Modelling & Simulation
Petroleum Engineering
Petroleum Process Equipment Auxiliaries
Piping Engineering
Polymer Reaction Engineering
Polymer Technology
Total Quality Management
Process Modelling and Simulation
Project Finance and Management
Basic Electrical and Electronics Engineering
Chemistry I
Chemistry II
Computer Programming and Algorithms
Engineering Chemistry – I
Engineering Chemistry – II
Engineering Graphics
Engineering Mechanics
Engineering Physics – II
Engineering Physics – I
Environment Studies
Programming Language and DBMS
Mathematics – I
Mathematics – II
Physics I
Physics II
Sanfoundry is looking for Interns who are passionate about their field of study and like core subjects in Petrochemical Engineering. Every intern contributes to Sanfoundry's Global learning project during their internship and is Mentored and Guided by our
Founder and CTO
. If you are interested to contribute and apply,
here's full detail of Sanfoundry's Internship Program
.

Sanfoundry Global Education & Learning Series – Petrochemical Engineering Internships!
Participate in the Sanfoundry Certification
contest
to get free Certificate of Merit. Join our social networks below and stay updated with latest contests, videos, internships and jobs!