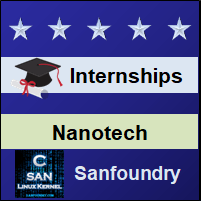 Sanfoundry located at Bangalore offers internships to deserving B.Tech/M.Tech Students in Nano Technology Engineering Branch. In Nano Technology Engineering internships offered by Sanfoundry, shortlisted interns will be working towards the creation of useful artifacts like questions and answers, tutorials, articles, real-world problems and solutions on Nano Technology Engineering. Moreover, every intern working on Nano Technology Engineering internship will focus on one specific subject under the Nano Technology branch. This will help the intern to develop an in-depth understanding of that particular subject in their branch.
Here's the list of topics for Internship in "Nano Technology Engineering".
Basic Civil Engineering
Basic Electrical Engineering
Basic Mechanical Engineering
Biology for Engineers
Analog Electronic Circuits
Elements of Mechatronics Systems
Engineering Graphics and Drawing
Fourier Series, Partial Differential Equations and Its Applications
Fundamentals of Solid State Engineering
Immunology
Industrial Nanotechnology
Intelligent Manufacturing Technology
Knowledge Management Systems
Micro and Nanofabrication
Modelling Tools and Techniques for Micro, Nano Systems
Nanobiotechnology
Nanochemistry
Nanoelectronics
Nanophotonics
Numerical Methods and Its Application
Polymer and Nanocomposites
Principles of Engineering Metallurgy
Probability and Random Process
Programming Using Matlab
Quantum Mechanics
Statistical Mechanics and Thermodynamics of Small Systems
Synthesis and Characterization of Nanomaterials
Advanced Drug Delivery Systems
Atomistic Modelling
Carbon Nanotechnology
Green Nanotechnology
Introduction To Scientific Research
Lithography Techniques and Fabrication
MEMS and NEMS
Micro and Nanofluidics
Microelectronics and VLSI
Molecular Spectroscopy and Its Applications
Nano and Micro Emulsions
Nano-computing
Nano-medicine
Nanomagnetism
Supramolecular Systems
Robotics Engineering
Nanotechnology for Energy Systems
Nanotechnology in Agriculture and Food Processing
Nanotechnology In Cosmetics
Nanotechnology in Textiles
Nanotechnology in Tissue Engineering
Smart Sensor Systems
Nanotribology
Photovoltaic Technology
Surface and interfaces
Physics of Solid State Devices
Polymer Engineering
Advanced Calculus and Complex Analysis
Calculus and Solid
Chemistry
Elements Of Nanoscience and Nanotechnology
Geometry
Materials Science
Physics
Principles of Environmental Science
Sanfoundry is looking for Interns who are passionate about their field of study and like core subjects in Nano Technology Engineering. Every intern contributes to Sanfoundry's Global learning project during their internship and is Mentored and Guided by our
Founder and CTO
. If you are interested to contribute and apply,
here's full detail of Sanfoundry's Internship Program
.

Sanfoundry Global Education & Learning Series – Nano Technology Engineering Internships!
Participate in the Sanfoundry Certification
contest
to get free Certificate of Merit. Join our social networks below and stay updated with latest contests, videos, internships and jobs!