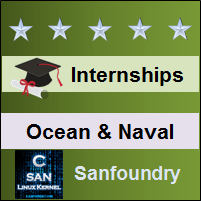 Sanfoundry located at Bangalore offers internships to deserving B.Tech/M.Tech Students in Ocean & Naval Engineering Branch. In Ocean & Naval Engineering internships offered by Sanfoundry, shortlisted interns will be working towards the creation of useful artifacts like questions and answers, tutorials, articles, real-world problems and solutions on Ocean & Naval Engineering. Moreover, every intern working on Ocean & Naval Engineering internship will focus on one specific subject under the Ocean & Naval branch. This will help the intern to develop an in-depth understanding of that particular subject in their branch.
Here's the list of topics for Internship in "Ocean and Naval Engineering".
Basic Electronics
Business Fundamentals & Economics
CAD-CAM Marine Design and Production
Computer Aided Design and Production
Economics
Elements of Ocean Engineering
Environmental Science and Engineering
Fluid Mechanics
Hydrostatics & Stability Calculations
Hydrostatics and Stability
Industrial Management
Machine Design
Marine Construction and Welding
Marine Design – I
Marine Design – II
Marine Design – III
Hydrodynamics
Vibration & Noise
Marine Power Plant
Marine Production
Marine Production and Planning
Marine Structures Computations
Marine Structures – I
Marine Structures – II
Marine Systems
Mathematics-III
Vibration of Floating Structures
Motion & Control
Numerical Solution of Ordinary and PDE
Transform Calculus
Resistance & Propulsion
Advance Theory of Vibrations
Thermodynamics
Advanced Ship Design
Analysis and Design of Ocean Structures
Coastal Engineering
Composites for Marine Structures
Computational Marine Hydrodynamics
Computational Methods in Marine Hydrodynamics
Computer Aided Ocean Structure Analysis
Design and Construction of Ocean Structures
Dynamics of Ocean Vehicles
Enviromental Management
Fishing Vessel Technology
Free Surface Hydrodynamics
Heat Engines
High Performance Marine Vehicles
Submarines and Submersibles
Inland Water Transportation
Introduction to Nano-Science and Technology
Marine Acoustics
Marine Maintenance and Repairs
Marine Materials
Numerical Ship and Offshore Hydrodynamics
Ocean Circulation and Modelling
Ocean Circulation and Wave Modelling
Ocean Energy
Offshore Technology
Physical Oceanography
Port and Harbour Engineering
Port Infrastructure and Management
Reliability of Ocean Structures
Safety and Maritime Regulations
Stability of Marine Structures
Chemistry
Electrical Technology
Engineering Drawing and Computer Graphics
Engineering Drawings & Graphics
Fluid Dynamics
Numerical Modelling of Manufacturing Processes
Introduction to Naval Architecture
Mathematics-I
Mechanics
Physics
Programming & Data Structure
Introduction to Manufacturing Processes
Sanfoundry is looking for Interns who are passionate about their field of study and like core subjects in Ocean & Naval Engineering. Every intern contributes to Sanfoundry's Global learning project during their internship and is Mentored and Guided by our
Founder and CTO
. If you are interested to contribute and apply,
here's full detail of Sanfoundry's Internship Program
.

Sanfoundry Global Education & Learning Series – Ocean & Naval Engineering Internships!