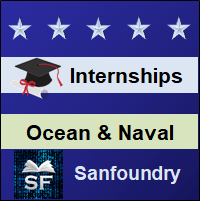 Sanfoundry offers internships to students of the Ocean & Naval Engineering branch. The shortlisted interns will be working towards the creation of useful artifacts like questions and answers, tutorials, as well as solving problems in Ocean & Naval Engineering. Read frequently asked questions on our internship here and then apply for the internship in the subject of your choice below.
Internships in Core Ocean & Naval Engineering Subjects
Hydrostatics & Stability
Marine Hydrodynamics
Elements of Ocean Engineering
Resistance & Propulsion
Marine Construction & Welding
Marine Structures
Motion & Control
Marine Design
Marine Production
Marine Materials
Marine Systems
Computer Aided Design & Production
Ocean & Naval Engineering Internships on Elective Subjects
High Performance Marine Vehicle
Port Infrastructure and Management
Fishing Vessel Technology
Inland Water Transportation
Submarines and Submersibles
Internships on Advanced Topics in Ocean & Naval Engineering
Industrial Management
Business Fundamentals & Economics
Vibration & Noise
Marine Power Plant
Physical Oceanography
Automation & Control Theory
Here is full detail of Sanfoundry Internship Program.
Participate in the Sanfoundry Certification
contest
to get free Certificate of Merit. Join our social networks below and stay updated with latest contests, videos, internships and jobs!