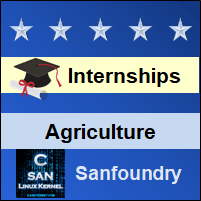 Sanfoundry located at Bangalore offers internships to deserving B.Tech/M.Tech Students in Agricultural Engineering Branch. In Agricultural Engineering internships offered by Sanfoundry, shortlisted interns will be working towards the creation of useful artifacts like questions and answers, tutorials, articles, real-world problems and solutions on Agricultural Engineering. Moreover, every intern working on Agricultural Engineering internship will focus on one specific subject under the Agricultural branch. This will help the intern to develop an in-depth understanding of that particular subject in their branch.
Here's the list of topics for Internship in "Agricultural Engineering".
Food Engineering
Dairy Engineering
Strength of Materials
Fluid Mechanics
Machine Design
Theory of Machines
Machine Drawing
Database Management and Grid Computing
Drainage Engineering
Drying and Storage Engineering
Principles of Agricultural Economics
Farm Tractors
Engineering Hydrology
Engineering Properties of Biological Materials and Food Quality
Fundamentals of CAD/CAM
Applied Thermodynamics
Fundamentals of Agribusiness Management
Advance Soil Mechanics
Principles of Food Science
Advance Groundwater Hydrology
Convective Heat and Mass Transfer
Irrigation and Drainage Engineering
Applied Irrigation Management
Water Resources Engineering
Machine Design and Computer Aided Machine Drawing
Earth Moving Equipments and Tractors
Post Harvest Engineering of Agricultural Crops
Agricultural and Food Engineering
Renewable Energy Sources
Refrigeration and Air conditioning
Crop Process Engineering
Agricultural Machinery
Agricultural Processing and Food Engineering
Agro-Industrial Project Planning and Management
Agro-Project Cash Flow Analysis and Finance
Biomass Management for Fodder and Energy
CAD and Simulation of Agricultural Machinery
Climate Change and Agricultural Production System
Crop Genomics and Biotechnology
Design and Maintenance of Green House
Environmental Biotechnology
Computer Applications in Environmental Engineering
Farm Machinery Design and Testing
Farm Power and Machinery Management
Fat and Oil Technology
Food Biotechnology
Functional Foods and Neutraceuticals
GIS Principles and Applications
Drives and Controls for Automation
Instrumentation and Control in Food industries
Nano Science and Technology
Mass Transfer Operations
Advance Mechanical Operations in Food Processing
Tillage and Sowing Equipment
Dynamics of Machinery and Dynamics Machines
Non Conventional Energy System
Fishing Vessel Technology
Pest Management in Horticultural Crops
Tractor Design and Testing, Hydraulics and Transmission
Remote Sensing Technology
Introduction to Renewable Energy Technologies
Basin Analysis and Reservoir Characterization
Systems Engineering Principles
Unit Operations in Food Processing
Engineering Mathematics
Engineering Physics
Engineering Chemistry
Engineering Mechanics
Engineering Drawing
Environmental Science and Engineering
Basic Electrical Engineering
Elements of Civil Engineering
Algorithms and Data Structures – 1
Algorithms and Data Structures – 2
Applied Chemistry
Multivariable Calculus and Differential Equations
Advance Engineering Mathematics
Basic Electronics Engineering
Partial Differential Equations and Transform Theorems
Computer Aided Engineering Drawing
Differential and Difference Equations
Probability and Statistics
Applications of Differential and Difference Equations
Elements of Mechanical Engineering
Sanfoundry is looking for Interns who are passionate about their field of study and like core subjects in Agricultural Engineering. Every intern contributes to Sanfoundry's Global learning project during their internship and is Mentored and Guided by our
Founder and CTO
. If you are interested to contribute and apply,
here's full detail of Sanfoundry's Internship Program
.

Sanfoundry Global Education & Learning Series – Agricultural Engineering Internships!