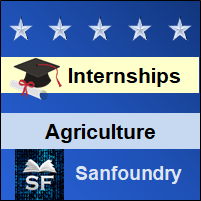 Sanfoundry offers internships to students of the Agricultural Engineering branch. The shortlisted interns will be working towards the creation of useful artifacts like questions and answers, tutorials, as well as solving problems in Agricultural Engineering. Read frequently asked questions on our internship here and then apply for the internship in the subject of your choice below.
Internships in Core Agricultural Engineering Subjects
Soil Science and Engineering
Unit Operations in Agricultural Processing
Hydrology and Water Resources Engineering
Post Harvest Technology
Groundwater and Well Engineering
Protected Cultivation
Solar and Wind Energy Engineering
Soil and Water Conservation Engineering
Agricultural Engineering Internships on Elective Subjects
Systems Analysis and Soft Computing in Agricultural Engineering
IT in Agricultural Systems
Climate change and adaptation
Agricultural Business Management
Agricultural Economics and Farm Management
Agricultural Extension
Agricultural Waste Management
Sustainable Agriculture and Food Security
Seed Processing Technology
Internships on Advanced Topics in Agricultural Engineering
Remote Sensing and Geographical Information System
Bio-Energy Resource Technology
Watershed Management
Micro Irrigation
On Farm Water Management
Automation in Irrigation
Ergonomics and Safety
Fundamentals of Nano Science
Here is full detail of Sanfoundry Internship Program.
Participate in the Sanfoundry Certification
contest
to get free Certificate of Merit. Join our social networks below and stay updated with latest contests, videos, internships and jobs!