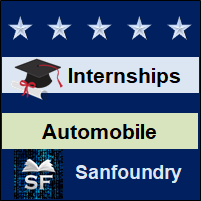 Sanfoundry offers internships to students of the Automobile Engineering branch. The shortlisted interns will be working towards the creation of useful artifacts like questions and answers, tutorials, as well as solving problems in Automobile Engineering. Read frequently asked questions on our internship here and then apply for the internship in the subject of your choice below.
Internships in Core Automobile Engineering Subjects
Vehicle Body Engineering
Engine and Vehicle Management System
Vehicle Maintenance
Automotive Chassis Components Design
Two and Three wheeled Vehicle
Vehicle Dynamics
Robotics
Automotive Transmission
Automotive Fuels and Lubricants
Mechanics of Machines
Automobile Engineering Internships on Elective Subjects
Transport Management
Automotive Pollution and Control
Automotive Testing
Computer Integrated Manufacturing
Alternative Fuels and Energy Systems
Off Road Vehicles
Operations Research
Noise, Vibration and Measurements
Metrology and Measurements
Earthmoving Equipment & Tractors
Fundamentals of Nano Science
Internships on Advanced Topics in Automobile Engineering
Automotive Safety
Compression Ignition Engines
Spark Ignition Engines
Hydraulics and Pneumatics
Automotive Aerodynamics
Automotive Air-Conditioning
New Generation and Hybrid Vehicles
Vehicle Design Data Characteristics
Automotive Electrical and Electronics Systems
Here is full detail of Sanfoundry Internship Program.
Participate in the Sanfoundry Certification
contest
to get free Certificate of Merit. Join our social networks below and stay updated with latest contests, videos, internships and jobs!