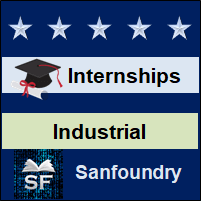 Sanfoundry offers internships to students of the Industrial Engineering branch. The shortlisted interns will be working towards the creation of useful artifacts like questions and answers, tutorials, as well as solving problems in Industrial Engineering. Read frequently asked questions on our internship here and then apply for the internship in the subject of your choice below.
Internships in Core Industrial Engineering Subjects
Work System Design
Engineering Economics and Cost Estimation
Operations Research
Manufacturing Automation
Applied Ergonomics
Operations Scheduling
Reliability Engineering
Facility Layout and Materials Handling
Production Planning and Control
Industrial Engineering Internships on Elective Subjects
Maintenance Engineering and Management
Multi-variate Statistical Analysis
Human Resource Management
Electronics Manufacturing Technology
Advanced Optimization Techniques
Technology Management
Modeling of Manufacturing Systems
Evolutionary Optimization
Systems Engineering
Internships on Advanced Topics in Industrial Engineering
Design of Experiments
Simulation Modeling and Analysis
Supply Chain Management
Safety Engineering and Management
Computational Methods and Algorithms
Design of Jigs, Fixtures and Press tools
Software Project Management
Productivity Management and Reengineering
Industrial Robotics
Product Design and Value Engineering
Decision Support and Intelligent Systems
Here is full detail of Sanfoundry Internship Program.
Participate in the Sanfoundry Certification
contest
to get free Certificate of Merit. Join our social networks below and stay updated with latest contests, videos, internships and jobs!