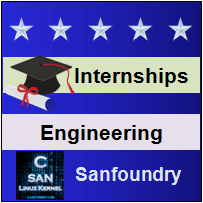 Sanfoundry located at Bangalore offers internships to deserving B.Tech/M.Tech Students in System & Control Engineering Branch. In System & Control Engineering internships offered by Sanfoundry, shortlisted interns will be working towards the creation of useful artifacts like questions and answers, tutorials, articles, real-world problems and solutions on System & Control Engineering. Moreover, every intern working on System & Control Engineering internship will focus on one specific subject under the System & Control branch. This will help the intern to develop an in-depth understanding of that particular subject in their branch.
Go to your favorite topic mentioned below to read more about our Internship and apply:
1. Signals and Feedback Systems Internships
Signals and Feedback Systems interns will focus on following areas or topics:
Signals
System
Overview Of Specific Systems
Time Domain Representation Of Linear Time Invariant Systems
Fourier Representations Of Signals And Linear Time Invariant Systems
Applications Of Fourier Representations To Mixed Signal Classes
Applications To Communication Systems
Representing Signals By Using Continuous Time Complex
Exponential:Laplace Transforms
Representing Signals By Using Discrete Time Complex Exponential:z Transform
Applications To Filters And Equalizers
Applications To Linear Feedback Systems
Epilogue
Continuous Time Fourier Series
Discrete Time Fourier Series
Continuous Time Fourier Transform
Discrete Time Fourier Transform
Discrete Fourier Transform And Fast Fourier Transform
Laplace Transform
Z Transform
Structure Realization
State Variables
Sampling Theorem
Reconstruction Of Band limited Signals
Hilbert Transform-Continuous And Discrete Time
Applications To Communication And Signal Processing
Convolution And Correlation: Continuous-Time Signals
Convolution And Correlation:discrete-Time Signals
2. Modelling and Identification of Dynamical Systems Internships
In Modelling and Identification of Dynamical Systems internship, shortlisted interns will focus on following list of topics:
Dynamic Systems
Time Invariant Linear Systems
Simulation And Prediction
Models Of Linear Time Invariant Systems
Models For Time Varying Nonlinear Systems
Nonparametric Time And Frequency Domain Methods
Parameter Estimation Methods
Convergence And Consistency
Asymptotic Distribution Of Parameter Estimates
Computing The Estimates
Recursive Estimation Methods
Options And Objectives
Experiment Design
Preprocessing Data
Choice Of Identification Criterion
Identification
Generation And Analysis Of Excitation Signals
FRF Measurements
Identification Of Linear Dynamic Systems
Best linear Approximation of Nonlinear Systems
Measuring The Best Linear Approximation Of A Non Linear System
Identification of Parametric Models in Presence Of Nonlinear Distortions
3. Control of Nonlinear Dynamical Systems Internships
Shortlisted interns will focus on following list of topics under Control of Nonlinear Dynamical Systems internship:
Phase Spaces
Vector Fields on The Line
Linear Eqution
Phase Flows
The Action of Diffeomorphisms on Vector Fields And Direction Fields
Symmetries
Basic Theorems
Linear Systems
Proofs of The Main Theorems
Ordinary Differential Equation
Smooth Dynamical Systems
Stability
Cycles
Systems in Symmetries
Implicit Differential Equations
Attractors
Differential Equations On Surfaces
Singular Points of Differential Equations in Higher Dimensional Real Phase Space
Singular Points of Differential Equations in Higher Dimensional Complex Phase Space
Singular Points of Vector Fields In Real and Complex Planes
System Analysis
Optimization Methods
Feedback Design
Regulation
Geometric Methods
Asymptotic Analysis
4. Optimal Control System Internships
In Optimal Control System internship, interns will focus on following topics:
Classical And Modern Control
Calculus Of Variations And Optimal Control
Linear Quadratic Optimal Control Systems
Linear Quadratic Optimal Control Systems-2
Discrete Time Optimal Control Systems
Pontryagin Minimum Principle
Constrained Optimal Control Systems
Optimal Control Problems
Systems Of Differential Equations,matrices And Sets
Controllability
Time Optimal Control
Further Examples
The Basic pontryagin Maximum Principle
Extensions To The PMP
Linear State Equations With Quadratic Costs
Proof Of The Pontryagin Maximum Principle
Further Applications And Extensions
Some Applied Optimal Control Problems
Numerical Methods For Optimal Control Problems
Introduction To Optimization
Unconstrained Minimization
Constrained Minimization:equality Constraints
Constrained Minimization:inequality Constraints
Minimization Using Matrix Notation
Differentials In Optimal Control
Simplest Optimal Control Problem
Fixed Final Time:first Differential
Fixed Final Time:tests For A Minimum
Fixed Final Time:second Differential
Fixed Final Time Guidance
Free Final Time
Parameters
Free Initial Time And States
5. Optimization Internships
Optimization interns will focus on following areas or topics:
Optimization
Introduction To Genetic Algorithms For Engineering Optimization
Kalyanmoy Deb
Memetic Algorithms
Scattter Search And Path Relinking:foundations And Advanced Designs
Ant Colony Optimization
Differential Evolution
SOMA-self Organizing Migreting Algorithm
Discrete Particle Swarm Optimization
Applications In Heat Transfer
Applications In Mass Transfer
Applications In Flluid Mechanics
Applications In Reaction Engineering
New Ideas And Applications Of Scatter Search And Path Relinking
Improvement Of Search Process In Genetic Algorithms:an Application Of PCB Assembly Of PCB Assembly Sequencing Problem
DNA Coded GA: Rule Base Optimization Of FLC For Mobile Robot
Optimizing CNC Drilling Machine Operations
Particle Swarm Optimization For The Assignment Of Facilities To Locations
Differential Evolution For The Flow Shop Scheduling Problems
Evaluation Of Form Errors To Large Measurement Data Sets Using Scatter Search
Mechanical Engineering Problem Optimization By SOMA
Scheduling And Production And Control
Determination Of Optimal Machining Conditions Using Scatter Search
Extended Frontiers In Optimization Techniques
6. Introduction to Linear Filtering and Beyond Internships
In Introduction to Linear Filtering and Beyond internship, shortlisted interns will focus on following list of topics:
Preliminaries
Kalman Filter:an Elementary Approach
Orthogonal Projection And Kalman Filter
Correlated System
Measurement Noise Processes
Coloured Noise
Limiting Kalman Filter
Sequential And Square Root Algorithms
Extended Kalman Filter
System Identification
Decoupling Of Filtering Equation
Kalman Filtering For Interval Systems
Wavelet Kalman Filtering
Adaptive Kalman Filtering
Probability Theory
Large Deviation Techiques And Application
Elements Of Information Theory
Nonlinear Programming
Dynamic Programming
Optimal Approach
7. Large Scale Systems Internships
Shortlisted interns will focus on following list of topics under Large Scale Systems internship:
Systems:modelling,analysis And Control
Linear Spaces And Linear Operators
State Variable Descriptions
Physical Systems And State Assignment
Solution Of State Equation
Contrallability And Observability
Relationship Between State Variable And Input-output Descriptions Stability
Modern Control
Optimal Control:general Mathematical Procedures
Optimal Feedback Control
Stochastic Optimal Linear Estimation And Control
Introduction To The Control Problem
Dynamic Models And Dynamic Response
Models Of Industrial Control Devices And Systems
Basic Principles Of Feedback Control
Concepts Of Stability and the Routh Stability Criterion
The Performance Of Feedback Systems
Compensator Design Using Root Locus Plots
The Nyquist Stability Criterion And Stability Margins
Feedback System Performance Based On The Frequency Response
Compensator Design Using Bode Plots
Hardware And Software Implementation Of Common Compensator
Control Systems Analysis Using State Variable Method
Functions Of Complex Variable
8. Adaptive Control Theory Internships
In Adaptive Control Theory internship, interns will focus on following topics:
The Output Regulation Problem
Convergent Systems
The Uniform Output Regulation Problem
Solvability Of The Uniform Output Regulation Problem
Controller Design For The Global Uniform Output Regulation Problem
The Local Output Regulation Problem:convergence Region Estimates
Experimental Case Study
Statistical Control
Algebraic Systems Theory
Dynamic Systems Characteristics
Stabilization Of Nonlinear Systems
Asymptotic Stabilization Via Immersion And Invariance
Robust Control Of Nonlinear Fluidics Problem
Optimal Control Of The Schrodinger Equation With Two Or Three Levels
Strong Robustness In Adaptive Control
Neutral Adaptive Control Technology
Nonlinear Control: Adaptation And Learning
Application Of Neural Networks
Adaptive And Learning Control
RBF Network Approximation And Persistence Of Excitation
The Deterministic Learning Mechanism
Deterministic Learning From Closed Loop Control
Dynamic Pattern Recognition
Pattern Based Intelligent Control
Deterministic Learning With Output Measurements
Toward Human-like Learning And Control
9. Analytical and Geometric Dynamics Internships
Analytical and Geometric Dynamics interns will focus on following areas or topics:
Spatial Description And Transformations
Manipulator Kinematics
Inverse Manipulator Kinematics
Jacobians: velocities And Static Forces
Manipulator Dynamics
Trajectory Generation
Manipulator-mechanism Design
Linear Control Of Manipulator
Nonlinear Control Of Manipulator
Force And Control Of Manipulators
Robot Programming Languages And Systems
Off-line Programming Systems
Kinematics
Dynamics
Mechanism And Actuation
Sensing And Estimations
Motion Planning
Motion Control
Force Control
Robotic Systems Architectures And Programming
A Reasoning Method For Robotics
Performance Evaluation And Design Criteria
Kinematically Redundant Manipulators
Parallel Mechanisms And Robots
Robots With Flexible Elements
Model Identification
Robot Hands
Legged Robots
Wheeled Robots
Micro/nano robots
Force And Tactical Sensors
Inertial Sensors, GPS, odometry
Sonar Sensing
Range Sensors
3-D Vision And Recognition
Vision Servings And Visual Tracking
Multisensor Data Fusion
10. Control of Langrangian and Hamiltonian Systems Internships
In Control of Langrangian and Hamiltonian Systems internship, shortlisted interns will focus on following list of topics:
Generalized Coordinates and Newton-Euler Balance
Mathematical Preliminaries
Vector Fields, Flows, and Differential Equations
Differentiable Manifolds
Basic Concepts in Geometric Mechanics
Symplectic and Poisson Manifolds and Hamiltonian Flows
Cotangent Bundles
Lagrangian Mechanics and Variational Principles
Mechanical Systems with External Forces
Lie-Poisson Brackets and the Rigid Body
Introduction to Aspects of Geometric Control Theory
Nonlinear Control Systems
Controllability and Accessibility
Representation of System Trajectories
Averaging and Trajectory Planning
Nonholonomic Mechanics
Equations of Motion
The Lagrange-d'Alembert Principle
Projected Connections and Newton's Law
Systems with Symmetry
The Momentum Equation
Control of Mechanical and Nonholonomic Systems
Background in Kinematic Nonholonomic Control Systems
Stabilization of the Heisenberg System
Stabilization of a Generalized Heisenberg System
Optimal Control
Variational Nonholonomic Problems
Optimal Control and the Maximum Principle
Variational Nonholonomic Systems and Optimal Control
Kinematic Sub-Riemannian Optimal Control Problems
Stability of Nonholonomic Systems
The Nonholonomic Energy-Momentum Method
The Pure Transport Case
Energy-Based Methods for Stabilization
Controlled Lagrangian Methods
Feedback Design and Matching
11. Automation and Feedback Control Internships
Shortlisted interns will focus on following list of topics under Automation and Feedback Control internship:
Introduction To Process Control
Theoretical Models Of Chemical Processes
Laplace Transforms
Transfer Function
State-space Models
Dynamic Behavior Of First-order And Second Order Processes
Dynamic Response Characteristics Of More Complicated Processes
Development Of Empirical Models From Processes Data
Feedback Controllers
Control System Instrumentation
Overview Of Control System Design
Dynamic Behavior And Stability Of Closed Loop Control Systems
PID Controller Design,tuning,and Troubleshooting
Frequency Response Analysis
Control Sytem Design Based On Frequency Response Analysis
Feedforward And Ratio Control
Enhanced Single-loop Control Strategies
Digital Sampling,filtering And Control
Multiloop Andd Multivariable Control
Real-time Optimization
Model Predictive Control
Process Monitoring
Batch Process Control
Introduction To Plantwide Contrl
Plantwide Control System Design
12. Quantitative Feedback Theory Internships
In Quantitative Feedback Theory internship, interns will focus on following topics:
Introduction to QFT
The MISO Analog Control System
Discrete Quantitative Feedback Technique
Multiple-Input Multiple-Output (MIMO) Plants: Structured Plant Parameter Uncertainty
Design Method 1 -The Single-Loop (MISO) Equivalents
MIMO System Design Method 2-Modified Single-Loop Equivalents
MIMO System With External Disturbance Inputs
The Design and Implementation Process for a Robust Control System
Writing System Equations
Solution of Differential Equations
Laplace Transform
System Representation
Control System Characteristics
Root Locus
Frequency Response
Closed Loop Tracking Performance Based on the Frequency Response
Root-Locus Compensation: Design
13. Optimal and Robust Control Internships
Optimal and Robust Control interns will focus on following areas or topics:
Introduction And Statistical Background
Linear Least Squares And Normal Theory
Maximum Likelihood Estimators
Models For Dynamic Systems
Estimation For Dynamic Systems
Experimental Design
Recursive Algorithms
Limit Theorems
Mathematical Models Of Physical Systems
State-space Models
Characteristics Of Closed-loop Systems
Performance Of Control Systems
Stability Of Linear Systems
The Root Locus Method
Frequency Response Plots
Bode Plots
Optimal Controls On Finite And Infinite Horizons
State Feedback Receding Horizon Controls
Receding Horizon Controls
Output Feedback Receding Horizon Controls
Constrained Receding Horizon Controls
Nonlinear Receding Horizon Controls
14. Differential Geometric Methods in Control Internships
In Differential Geometric Methods in Control internship, shortlisted interns will focus on following list of topics:
Phase Spaces
Vector Fields On The Line
Linear Equations
Phase Flows
Symmetries
Rectification Theorem
Applications To Equations Of Higher Order
The Phase Curves Of An Autonomous Systems
Linear Systems
Exponential Functions
Stability Of Equilibrium Positions
Classification Of Singular Points Of Linear Systems
Ordinary Differential Equations
Smooth Dynamic Systems
Proofs Of Main Theorem
Fundamental Theorem Of Ordinary Differential Equations
Dependence On Data
Non uniqueness
General Theory Of Linear Systems
Singularities Of The First Kind
Boundary-value Problems Of Linear Differential Equations Of The Second Order
Asymptotic Behavior Of Solutions Of Linear Systems
Stability
Autonomous Systems
The Second-order Differential Equation
Asymptotic Expansions In A Parameter
Singularities Of The Second Kind
15. Systems Theory Internships
Shortlisted interns will focus on following list of topics under Systems Theory internship:
Spaces
Transformation
Orthogonality
Visual Perception
Linear System Theory
Vector Spaces
Color Perception And Colorimetry
Color Management
Psychophysical Measurement And Modelling Of Image Quality
Discrete Periodic Signals And Fourier Transformations
Image Sampling And Interpolation
Spatio-thermal Characteristics Of The Human Visual System
Optimizing Sampling Structures
Image Quantization
Double-ended Instrumental Models Of Image Quality
Single-ended Instrumental Models Of Image Quality
Curves In The Plane
Famous Plane Curves
Alternative Ways Of Plotting Curves
Determining A Plane Curve From Its Curvature
Curves In Spaces
Construction Of Space Curves
Nonorientable Surfaces
Intrinsic Surface Geometry
16. Motion Planning and Coordination of Autonomous Vehicles Internships
In Motion Planning and Coordination of Autonomous Vehicles internship, interns will focus on following topics:
Overview Of Concepts In Motoin Planning
Bug Algorithms
Configuration Space
Potential Functions
Road maps
Cell Decompositions
Sampling-based Algorithms
Kalman Filters
Bayesian Methods
Robot Dynamics
Trajectory Planning
Nonholonomic And Underactuated Systems
Navigation And Gait Planning
Complaint Control Of Whole-body Multi-contact Behaviors In Humanoid Robots
Whole-body Motion Planning
Planning Whole-body Humanoid Locomotion
Efficient Motion And Grasp Planning For Humanoid Robots
Multi-contact Acyclic Motion Planning And Experiments
Motion Planning or A Humanoid Robot Based On A Biped Walking Pattern Generator
Autonomous Manipulation Of Movable Obstacles
Multi-modal Motion Planning For Precision Pushing On A Humanoid Robot
A Motion Planning Framework For Skill Coordination And Learning
Consensus Algorithms For Single-integrator Dynamics
Consensus Tracking With A Reference State
Extensions To A Reference Model
17. Guidance Strategies for Autonomous Vehicles Internships
Guidance Strategies for Autonomous Vehicles interns will focus on following areas or topics:
Paralyzed Missile Equations Of Motion
Dynamic Forces And Coefficients
Missile Guidance Laws
Delivery Systems
Basics Of Missile Guidance
Laplace Transform
Transfer Functions,block Diagrams,and Signal Flow Graphs
Control System Characteristics
Time Response Of First And Second Order Control Systems
Stability Of Control Systems
Root-locus Analysis
Frequency Response:Bode Diagrams
State-space Representation Of Control Systems
Control-system Compensation
Simulation Tools
Tethered Systems In Space
Equations Of Motion Of Space Tether Systems Atmospheric And Space Flight
Attitude And Kinematics Of Coordinate Frames
Planetary Form And Gravity
Translational Motion Of Aerospace Vehicles
Orbital Mechanics
Perturbed Orbits
The Three-body Problem
Rocket Propulsion
Planetary Atmosphere
Elements Of Aerodynamics
Airbreathing Propulsion
Atmospheric And Transatmospheric Trajectories
Attitude Dynamics
Attitude Control Systems
Advanced Modeling And Simulation Concepts
18. Introduction to Probability and Random Processes Internships
In Introduction to Probability and Random Processes internship, shortlisted interns will focus on following list of topics:
vents And Probability
Discrete Random Variables And Expectation
Moments And Deviations
Chernoff Bounds
Balls, Bins And Random Graphs
The Probabilistic Method
Markov Chains And Random Walks
Continuous Distributions And The Poisson Process
Entropy, randomness And Information
The Monte Carlo Method
Couping Of Markov Chains
Martingales
Pairwise Independence And Universal Hash Functions
Balanced Allocations
Introduction To Rar Event Simulation
Importance Sampling In Rare Event Simulation
Splitting Techniques
Robustness Properties And Confidence Interval Reliability Issues
Rare Event Simulation For Queues
Markovian Models For Dependability Analysis
Rare Event Simulation And Counting Problems
Rare Event Estimation For A Large-scale Stochastic Hybrid Systems With Air Traffic Application
19. Variable Structure and Sliding Mode Control Internships
Shortlisted interns will focus on following list of topics under Variable Structure and Sliding Mode Control internship:
Regularization Of Second Order Sliding Mode Control Systems
Discontinuous Homogeneous Control
Second-order Sliding Sector For Variable Structure Control
Intuitive Theory Of Sliding Mode Control
Conventional Sliding Modes Observers
Second-order Sliding Mode Controllers And Differentiators
Analysis Of Sliding Mode Controllers In The Frequency Domain
Higher-order Sliding Mode Controllers And Differentiators
Observation And Identification Via HOSM Observers
Disturbance Observer Based Control: Aerospace Applications
Sliding Mode Control
High Performance Robust Controller Design Using Nonlinear Surface
High Performance Tracking Controller For Discrete Plant Using Nonlinear Surface
An Improvement In Performance Of Input-delay System Using Nonlinear Sliding Surface
Integral Sliding Mode Based Composite Nonlinear Feedback Control
Multi-Objective Sliding Mode Design Using Full Order Lyapuniv Matrix
Lyapunov-based Sliding Mode Control With Multi-Rate Output Feedback
Sliding Mode Enforcement
Finite Time Stability And High Relative Degrees In Sliding Mode Control
Frequency-domain Methods In Conventional And Higher Order Sliding Mode Control
Lyapunov Approach For Analysis And Design Of Second Order Sliding Mode Algorithms
A New Design Of Sliding Mode Control Systems
Second Order Sliding Mode Approaches To Control And Estimation For Fractional Order Dynamics
Discussion About Sliding Mode Algorithms
Output Feedback Sliding Mode Control Of Uncertain Systems
20. Embedded Control System Internships
In Embedded Control System internship, interns will focus on following topics:
The Basics
Z-transforms
Performance
Block Diagram
Analysis
Design
Sampling Theory
Nonlinear Systems
Measuring Frequency Response
Software Implications
Afterword
A System Approach To Embedded Systems Design
Embedded Hardware Building Blocks And The Embedded Board
Embedded Processors
Board Memory
Board I/O
Board Buses
Device Drivers
Embedded Operating Systems
Middleware And Application Software
Standards And Networking
Gate-level Combinational Circuit
Overview Of FPGA And EDA Software
RT Level Combinational Circuit
Regular Sequential Circuit
FSM
FSMD
Sanfoundry is looking for Interns who are passionate about their field of study and like core subjects in System & Control Engineering. Every intern contributes to Sanfoundry's Global learning project during their internship and is Mentored and Guided by our
Founder and CTO
. If you are interested to contribute and apply,
here's full detail of Sanfoundry's Internship Program
.

Sanfoundry Global Education & Learning Series – System and Control Engineering Internships!