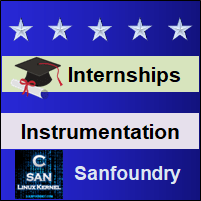 Sanfoundry located at Bangalore offers internships to deserving B.Tech/M.Tech Students in Instrumentation Engineering Branch. In Instrumentation Engineering internships offered by Sanfoundry, shortlisted interns will be working towards the creation of useful artifacts like questions and answers, tutorials, articles, real-world problems and solutions on Instrumentation Engineering. Moreover, every intern working on Instrumentation Engineering internship will focus on one specific subject under the Instrumentation branch. This will help the intern to develop an in-depth understanding of that particular subject in their branch.
Go to your favorite topic mentioned below to read more about our Internship and apply:
1. Instrumentation Transducers Internships
Instrumentation Transducers interns will focus on following areas or topics:
Instrumentation Sytstem Fundamentals
Transducer Fundamentals
Criteria For Transducer Selection
Transducer Performance Tests
Displacement Transducer and Motion Sensors
Tachometers and Velocity Transducers
Accelerometers
Gyros and Others Attitude Sensors
Strain Gages
Force Transducers(Load Cells)
Torque Transducers
Flowmeters
Humidity and Moisture Sensors
Liquid Level Sensors
Pressure Transducers
Sound-Measuring Microphones
Vacuum Sensors
Viscometers and Densitometers
Thermometers
Radiation Pyrometers
Heat Flux Sensors
Opticals Detectors
Nuclear Radiation Detectors
Transducers For Electricity and Magnetism
2. Microprocessor and peripherals Internships
In Microprocessor and peripherals internship, shortlisted interns will focus on following list of topics:
The Processor
Instruction Set and Assembler Directives
The Art of Assembly Language Programming with 8086/8088
Special Architectural Features and Related Programming
Basic Peripherals and Their Interfacing with 8086/88
Special Purpose Programmable Peripheral Devices and Their Interfacing
DMA, Floppy Disk and CRT Controllers
Multimicrprocessor Systems
Recent Advances in Microprocessor Architectures
Pentium 4
RISC Architecture
Microprocessor Based Aluminum Smelter Control
Design of a Microprocessor Based Pattern Scanner System
Design of an Electronic Weighing Bridge
An Introduction to Microcontrollers 8051 and 80196
Evolution of Microprocessors
Fundamentals of a computer
Number Representation
Fundamentals of Microprocessor
Firt Assembly Language Program
Data Transfer Group of Instructions
Arithmetic Group of Instruction
Logical Group of Instruction
3. Digital Signal Processing Internships
Shortlisted interns will focus on following list of topics under Digital Signal Processing internship:
Signals, Systems, and Processing
Discrete Time Signals and Systems
z-Transform and its Application to the analysis of LTI Systems
Frequency Analysis of Signals and Systems
The Discrete Fourier Transform and its Properties and Applications
Efficient Computation of DFT
Fast Fourier Transform Algorithm
Implementation of Discrete Time Signals
Design of Digital Filters
Sampling and Reconstruction of Signals
Multirate Digital Signal Processing
Linear Prediction and Optimal Linear Filters
Power Spectrum Estimation
4. Process Instrumentation Internships
In Process Instrumentation internship, interns will focus on following topics:
Control System Fundamentals
Control Principles
Techniques for Process Control
Basic Control Algorithms
Safety in Instrumentation and Control Systems —
Controllers
Distributed Control Systems
Programmable Controllers
Stand-Alone Controllers
Hydraulic Controllers
Batch Process Control
Automatic Blending Systems
Distributed Numerical Control and Networking –
Computers and Controls
Manufacturing Message Specification
Field-Based Systems
Process Variables-Field Instrumentation
Temperature Systems
Fluid Pressure Systems
Industrial Weighing and Density Systems
Humidity and Moisture Systems
Geometric and Motion Sensors
Metrology, Position, Displacement, Thickness and Surface Texture Measurement
Magnetostrictive Linear Position Sensors
Object Detectors and Machine Vision
Flat Web (Sheet) Measurement and Control
Speed, Velocity and Acceleration Instrumentation
Vibration Measurement
Real-Time Analytical Composition Measurements for Input to Process Control
Concentration Measurement Technology and Devices
5. Digital Image Processing Internships
Digital Image Processing interns will focus on following areas or topics:
Digital Image Fundamentals
Image Enhancement in the Spatial Domain
Image Enhancement in the Frquency Domain
Image Restoration
Color Image processing
Wavelets and multiresolution processing
Image Compression
Morphological Image Processing
Image Segmentation
Representation and Description
Object Recognition
6. Advanced Control Systems Internships
In Advanced Control Systems internship, shortlisted interns will focus on following list of topics:
Mathematical Modeling of System
Characteristics of Feedback Control System
Transient Response Analysis
Routh Stability and Robust Control
Root-Locus Technique
Process Control System
Frequency Response Analysis
Nyquist Stability
Compensation Technique
State- Variable Formulation
Analysis and Design of Modern Control System
Digital Control System
Nonlinear System
Translation System
Typical Test Input Signal
Derivation of Sensitivity
Single Flow Graph
Stepper Motor
Integral Action or Reset
7. Process Control System Internships
Shortlisted interns will focus on following list of topics under Process Control System internship:
General Considerations
Flow Management
Level Measurement
Temperature Measurement
Pressure Measurement
Density Measurement
Safety and Miscellaneous sensor
Analytical Instrumentation
Process Modelling for Computer Aided
Feedback Control System
Basics of Computer-Aided Process Control
Process Control Computer Hardware and Software
Design of Computer-Aided Process Control System
Advanced Strategist For Computer-Aided Process Control
Microcomputer-Based Process Control-A Programmable Logic Controller
Microcomputer-Based Process Control-A Distributed Control System
Computer-Aided Process Control-Practical Implementation
Feed Forward Control System
Control Model
Measuring Devices
Roll Of Computer In Process Control
Robustness Specification for Mimo Lit System
Operational Amplifier Fundamentals
Circuits with Resistive Feedback
Active Filters: Part 1
Active Filters: Part 2
Static Op Amp Limitations
Dynamic Op Amp Limitations
Noise
Stability
Nonlinear Circuits
Signal Generators
Voltage References and Regulators
D-A and A-D Converters
Nonlinear Amplifiers and Phase-Locked Loops
8. Analytical Instrumentation Internships
In Analytical Instrumentation internship, interns will focus on following topics:
The Nature of Analytical Chemistry
tools Of Analytical Chemistry
Chemicals, Apparatus, and Unit Operations of Analytical Chemistry
Using Spreadsheets in Analytical Chemistry
Calculations Used in Analytical Chemistry
Errors in Chemical Analyses
Random Errors in Chemical Analysis
Statistical Data Treatment and Evaluation
Sampling, Standardization and Calibration
Chemical Equilibria
Aqueous Solutions and Chemical Equilibria
Effect of Electrolytes on Chemical Equilibria
Solving Equilibrium Problems for Complex Systems
Classical Methods of Analysis
Gravimetric Methods of Analysis
Titrimetric Methods; Precipitation Titrimetry
uPrinciples of Neutralization Titrations
Titration Curves for Complex Acid/Bases Systems
Applications of Neutralization Titrations
Complexation Reactions and Titratrions
Electrochemical Methods
Introduction to Electrochemistry
Applications of Standard Electrode Potentials
Applications of Oxidation/Reduction Titrations
Potentiometry
Bulk Electrolysis: Electrogravimetry and Coulometry
Voltammetry
Spectrochemical Analysis
Introduction to Spectrochemical Methods
Instruments for Optical Spectroscopy
Molecular Absorption Spectroscopy
Molecular Fluorescence Spectroscopy
Atomic Spectroscopy
Kinetics and Separations
Kinetic Methods of Analysis
Introduction to Analytical Separations
Gas Chromatography
High-Performance Liquid Chromatography
Miscellaneous Separation Methods
Practical Aspects Of Chemical Analysis
Analysis of Real Samples
Preparing Samples for Analysis
Decomposing and Dissolving the Sample
Selected Methods of Analysis
9. PIC Microcontroller Internships
PIC Microcontroller interns will focus on following areas or topics:
A PIC Microcontroller Framework
CPU Architecture and Instruction Set
MPASM Assembler and Its Use
Loop Time Subroutine, Timer2 and Interrupts
Interrupt Timing and Program Size Considerations
External Interrupts and Timers
I/O Port Expansion
Front-Panel I/O
I[superscript 2]C Bus for Peripheral Chip Access
Analog-to-Digital Converter
UART
Special Features
Embedded C Language Tutorial
PIC Microcontroller Hardware
Standard I/O and Preprocessor Directives
The CCS-PICC C Compiler and IDE
Project Development
A PIC Microcontroller Framework
CPU Architecture and Instruction Set
MPASM Assembler and Its Use
Loop Time Subroutine,Timer2 and Interrupts
Interrupt Timing and Program Size Considerations
External Interrupts and Timer
I/O Port Expansion
Front-Panel I/O
Analog -to- Digital Converters
UART
Special Features
10. DSP Architecture Internships
In DSP Architecture internship, shortlisted interns will focus on following list of topics:
Architectures for programmable digital signal-processing devices
Programmable digital signal processors
Development tools for digital signal-processing implementations
Implementations of basic DSP algorithms
Implementation of FFT algorithms
Interfacing memory and parallel I/O peripherals to programmable DSP devices
Interfacing serial converters to a programmable DSP device
Applications of programmable DSP devices
Computational accuracy in DSP implementations
Analog I/O interface for real-time DSP System
Discrete Transforms
The Z-transform and Its Application IN Signal Processing
Correlation and Convolution
A Frameeork For Digital Filter Design
Finite Impulse Response (FIR) Filter Design
Design Of Infinity Impluse Response (IIR) Digital Filters
Multi rate Digital Signal Processing in Industry
Adaptive Digital Filters
Spectrum Estimation and Analysis
General and Special-Purpose Digital Signal Processors
Analysis of Finite Word Length Effects in Fixed Point DSP Systems
Applications and Design Studies
11. Neural network and Fuzzy logic Internships
Shortlisted interns will focus on following list of topics under Neural network and Fuzzy logic internship:
Learning Process
Correlation Matrix Memory
Perceptron
Least-Mean-Square Algorithm
Multilayer Perceptrons
Radial-Basis Function Networks
Recurrent Networks Rooted in Statistical Physics
Self-Organizing Systems I: Hebbian Learning
Self-Organizing Systems II: Competitive Learning
Self-Organizing Systems III: Information-Theoretic Models
Modular Networks
Temporal Processing
Neurodynamics
VLSI Implementations of Neural Networks
Classical and Fuzzy Sets
Classical Relations and Funny Relations
Properties of Membership Functions, Fuzzification, and Defuzzification
Logic and Fuzzy Sets
Development of Membership Functions
Automated Methods for Fuzzy Systems
Fuzzy System Simulation
Decision Making with Information
Fuzzy Classification
Fuzzy Pattern Recognition
Fuzzy Arithmetic and Extension Principle
Fuzzy Control Systems
Monotone Measures: Plausibility, Probability
12. Automation in Process Control Internships
In Automation in Process Control internship, interns will focus on following topics:
Process Control
Control Systems
Process-Control Principles
Servomechanisms
Discrete-State Control Systems
Process-Control Block Diagram
Identification of Elements
Control System Evaluation
Stability
Steady-State Regulation
Transient Regulation
Evaluation Criteria
Analog and Digital Processing
Data Representation
ON/OFF Control
Analog Control
Digital Control
Programmable Logic Controllers
Units, Standards, and Definitions Units
Analog Data Representation
Process-Control Drawings
Sensor Time Response
First-Order Response
Second-Order Response
Significance and Statistics
Significant Figures
Statistics
Analog Signal Conditioning
Principles of Analog Signal Conditioning
Signal-Level and Bias Changes
Linearization
Conversions
Filtering and Impedance Matching
Concept of Loading
Passive Circuits
Divider Circuits
Bridge Circuits
RC Filters
Operational Amplifiers
Op Amp Characteristics
Op Amp Specifications
Op Amp Circuits in Instrumentation
Voltage Follower
Inverting Amplifier
Noninverting Amplifier
Differential Instrumentation Amplifier
Voltage-to-Current Converter
Current-to-Voltage Converter
Integrator
Differentiator
Linearization
Design Guidelines
Digital Signal Conditioning
Review of Digital Fundamentals
Digital Information
Fractional Binary Numbers
Boolean Algebra
Digital Electronics
Programmable Logic Controllers
Computer Interface
Converters
Comparators
Digital-to-Analog Converters (DACs)
Analog-to-Digital Converters (ADCs)
Frequency-Based Converters
Data-Acquisition Systems
DAS Hardware
DAS Software
Characteristics of Digital Data
Digitized Value
Sampled Data Systems
Linearization
Thermal Sensors
Definition of Temperature
Thermal Energy
Temperature
Metal Resistance versus Temperature Devices
Metal Resistance versus Temperature
Resistance versus Temperature Approximations
Resistance-Temperature Detectors
Thermistors
Semiconductor Resistance versus Temperature
Thermistor Characteristics
Thermocouples
Thermoelectric Effects
Thermocouple Characteristics
Thermocouple Sensors
Other Thermal Sensors
Bimetal Strips
Vapor-Pressure Thermometers
Liquid-Expansion Thermometers
Solid-State Temperature Sensors
Design Considerations
Mechanical Sensors
Displacement, Location, or Position Sensors
Potentiometric Sensors
Capacitive and Inductive Sensors
Variable-Reluctance Sensors
Level Sensors
Strain Sensors
Strain and Stress
Strain Gauge Principles
Metal Strain Gauges
Semiconductor Strain Gauges (SGs)
Load Cells
Motion Sensors
Types of Motion
Accelerometer Principles
Types of Accelerometers Applications
Pressure Sensors
Pressure Principles
Pressure Sensors (p > 1 atmosphere)
Pressure Sensors (p < 1 atmosphere)
Flow Sensors
Solid-Flow Measurement
Liquid Flow
Optical Sensors
13. Lasers and Optical Instrumentation Internships
Lasers and Optical Instrumentation interns will focus on following areas or topics:
Light
Elements of Solid State Physics
Modulation of Light
Display Devices
Lasers 1
Lasers 2
Photodetectors
Fiber Optical Waveguides
Optical Communication Systems
Non Communications Applications of Fibers
Photons and Electrons
Wave Properties of Light
Polarization Optics
Light and Matter: Emission, Propagation and Absorption
optical Coherence and Correlation
Physics of Radiation and Solids
Optical Sources, Modulators and Detectors
Non Linear Optics
Opto-electronics in Action
14. Aircraft Instrumentation Internships
In Aircraft Instrumentation internship, shortlisted interns will focus on following list of topics:
Airbreathing Jet Engine: A 20th Century Invention
Innovations in Aircraft Gas Turbine Engines
Multi-Spool Configuration
Variable Stator
Transonic Compressor
Low-Emission Combustor
Turbine Cooling
Exhaust Nozzle
Modern Materials and Manufacturing Techniques
New Engine Concepts
Wave Rotor Topping Cycle
Pulse Detonation Engine
Millimeter-Scale Gas Turbine Engines: A Triumph of MEMs
Combined Cycle Propulsion: Engines from Takeoff to Space
New Vehicles
Roadmap for the Book
Compressible Flow with Friction & Heat
Thermodynamics
Isentropic Process/Flow
Conservation Principles for Systems and Control Volumes
Speed of Sound & Mach Number
Stagnation State
Quasi-One Dimensional Flow
Area-Mach Number Relationship
Sonic Throat
Waves in Supersonic Flow
Normal Shocks
Oblique Shocks
Conical Shocks
Expansion Waves
Frictionless, Constant-Area Duct Flow with Heat Transfer
Adiabatic Flow in a Constant-Area Duct with Friction
Friction (Drag) Coefficient, Cf and D'Arcy Friction Factor, fD
Fluid Impulse
Fluid Impulse
Engine Thrust & Performance Parameters
Takeoff Thrust
Installed Thrust – Some Bookkeeping Issues on Thrust & Drag
Engine Thrust Based on the Sum of Component Impulse
Rocket Thrust
Airbreathing Engine Performance Parameters
Gas Turbine Engine Cycle Analysis
The Gas Generator
Aircraft Gas Turbine Engines
The Turbojet Engine
The Inlet
The Compressor
The Burner
The Turbine
Thermal Efficiency of a Turbojet Engine
Propulsive Efficiency of a Turbojet Engine
The Overall Efficiency of a Turbojet Engine
Performance Evaluation of a Turbojet Engine
The Turbojet Engine with an Afterburner
Optimum Compressor Pressure Ratio for Maximum Thrust Turbojet Engine with Afterburner
The Turbofan Engine
Analysis of a Separate-Exhaust Turbofan Engine
Thermal Efficiency of a Turbofan Engine
Propulsive Efficiency of a Turbofan Engine
Analysis of a Mixed-Exhaust Turbofan Engine with an Afterburner
Mixer
Cycle Analysis
Solution Procedure
The Turboprop Engine
The New Parameters
Design Point Analysis
Optimum Power Split Between the Propeller and the Jet
Centrifugal Compressor Aerodynamics
Centrifugal Compressors
Radial Diffuser
Inducer
Inlet Guide Vanes (IGVs) and Inducer-less Impellers
Impeller Exit Flow and Blockage Effects
Efficiency and Performance
Aerothermodynamics of Gas Turbines
Axial-Flow Turbines
Turbine Performance Map
The Effect of Turbine Cooling on Efficiency
Turbine Blade Profile Design
Stresses in Turbine Blades and Disks and Useful Life Estimation
Axial-Flow Turbine Design and Practices
Gas Turbine Design
Aircraft Engine Component Matching & Off-Design Analysis
Engine (Steady-State) Component Matching
Engine Corrected Parameters
Inlet-Compressor Matching
Fixed-Geometry Convergent Nozzle Matching
Engine Off-Design Analysis
Off-Design Analysis of a Turbojet Engine
Off-Design Analysis of an Afterburning Turbojet Engine
Off-Design Analysis of a Separate-Flow Turbofan (2-Spool) Engine
Un-choked Nozzles and Other Off-Design Iteration Strategies
Un-choked Exhaust Nozzle
Un-choked Turbine Nozzle
Turbine Efficiency at Off-Design
Variable Gas Properties
Chemical Rockets & High-Speed Propulsion
Chemical Rockets
Chemical Rocket Applications
Launch Vehicles
Boos Engines
Space Maneuver Engines
Attitude Control Rockets
New Parameters in Rocket Propulsion
Thrust Coefficient, CF
Characteristic Velocity, c*
Flight Performance
Multi-Stage Rockets
Propulsive and Overall Efficiency
Chemical Rocket Combustion Chamber
Liquid Propellant Combustion Chambers
Some Design Guidelines for Injector Plate
Combustion Instabilities
Solid Propellant Combustion Chambers
Thrust Chamber Cooling
Liquid Propellant Thrust Chambers
Cooling of Solid Propellant Thrust Chambers
Combustor Volume and Shape
Rocket Nozzles
Multi-Phase Flow in Rocket Nozzles
Flow Expansion in Rocket Nozzles
Thrust Vectoring Nozzles
High-Speed Airbreathing Engines
Supersonic Combustion Ramjet
Inlet Analysis
Scramjet Combustor
Scramjet Nozzle
Rocket-Based Airbreathing Propulsion
15. Wavelet Transforms Internships
Shortlisted interns will focus on following list of topics under Wavelet Transforms internship:
Mathematical Preliminaries
Fourier Analysis
Time-Frequency Analysis
Multiresolution Analysis
Construction of Wavelets
Discrete Wavelet Transform and Filter Bank Algorithms
Fast Integral Transform and Applications
Digital Signal Processing Applications
Wavelets in Boundary Value Problems
Introduction to wavelets
A multiresolution formulation of wavelet systems
Filter bands and the discrete wavelet transform
Bases, orthogonal bases, biorthogonal bases, frames, tight frames, and unconditional bases
The scaling function and scaling coefficients, wavelet and wavelet coefficients
Regularity, moments, and wavelet system design
Generalizations of the basic multiresolution wavelet system
Filter banks and transmultiplexers
Calculation of the discrete wavelet transform
Wavelet-based signal processing and applications
16. Speech Signal Processing Internships
In Speech Signal Processing internship, interns will focus on following topics:
Lossless Compression
Huffman Coding
Arithmetic Coding
Dictionary Techniques
Context Based Compression
Lossless Image Compression
Lossy Coding
Scalar Quantization
Vector Quantization
Differential Encoding
Transforms, Subbands, and Wavelets
Transform Coding
Subband Coding
Wavelet-Based Compression
Audio Coding
Analysis/Synthesis and Analysis by Synthesis Schemes
Video Compression
Coding Strategies and Standards
Speech Coding Techniques
Algorithm Objectives and Requirements
Standard Speech Coders
Sampling
Scalar Quantization
Vector Quantization
Short-Time Spectral Analysis
Linear Predictive Modelling of Speech Signals
Pitch Prediction
Alternative Representation of LPC
17. Industrial Instrumentation Internships
Industrial Instrumentation interns will focus on following areas or topics:
Principles of Food Processing
Food Dehydration
Fermented Product Manufacturing
Fundamentals and Industrial Applications of Microwave and Radio Frequency in Food Processing
Food Packaging
Food Regulations in the United States
Food Plant Sanitation and Quality Assurance
Bakery: Muffins
Applications
Fats: Vegetable Shortening
Bakery: Yeast-leavened Breads
Beverages, Nonalcoholic: Carbonated Beverages
Beverages, Alcoholic: Beer Making
Grain, Cereal: Ready-to-Eat Breakfast Cereals
Grain, Paste Products: Pasta and Asian Noodles
Dairy: Cheese
Dairy: Ice Cream
Fats: Vegetable Shortening
Fruits: Orange Juice Processing
Meat: Fermented Meats
Poultry: Poultry Nuggets
Poultry: Poultry
Seafood: Frozen Aquatic Food Products
Seafood: Processing, Basic Sanitation Practices
Vegetables: Tomato Processing
18. Biomedical DSP Internships
In Biomedical DSP internship, shortlisted interns will focus on following list of topics:
Front Matter
Introduction to Biomedical Signals
Concurrent, Coupled, and Correlated Processes
Filtering for Removal of Artifacts
Event Detection
Analysis of Waveshape and Waveform Complexity
Frequency-domain Characterization of Signals and Systems
Modeling Biomedical Signal₆generating Processes and Systems
Analysis of Nonstationary Signals
Pattern Classification and Diagnostic Decision
Discrete Time Signals and Systems
The Discrete Fourier Transform
Theory of z-Transform
Neurological Signal Processing
Sleep EEG
Adaptive Interference/Noise Cancellation
Cardiological Signal Processing
ECG Data Reduction Technique
Prony's Method
19. Mobile Communications Internships
Shortlisted interns will focus on following list of topics under Mobile Communications internship:
Probability, Statistics, and Traffic Theories
Mobile Radio Propagation
Channel Coding and Error Control
Cellular Concept
Multiple Radio Access
Multiple Division Techniques
Channel Allocation
Mobile Communication Systems
Existing Wireless Systems
Satellite Systems
Network Protocols
Ad hoc and Sensor Networks
Wireless MANs, LANs, and PANs
Recent advances
Electronic Communications
Signal Generation
Amplitude Modulation Transmission
Amplitude Modulation Reception
Single-Sideband Communications Systems
Angle Modulation Transmission
Angle Modulation Receivers and Systems
Transmission Lines
Wave Propagation
Antennas and Waveguides
Basic Television Principles
Digital Communications
Data Communications
Data Communications Protocols
Digital Transmission
Multiplexing
Microwave Radio Communications and System Gain
Satellite Communications
Satellite Multiple-Access Arrangements
Optical Fiber Communications
The Smith Chart
Solutions to Odd-Numbered Problems
20. Smart Sensors Internships
In Smart Sensors internship, interns will focus on following topics:
Photonic and Optoelectronics Sensors
Infrared and Thermal Sensors
Magnetic and Inductive Sensors
Sound and Ultrasound Sensors
Piezoresistive, Wireless, and Electrical Sensors
Smart Sensor Basics
Micromachinig
Nature of Semiconductor Sensor Output
Getting Sensor Information into Microcontroller
Using MCUs/DSPs to Increase Sensor IQ
Communication for Smart Sensor
Control Techniques
Wireless Sensing
MEMS
Mechatronics Sensing System
Standards for Smart Sensing
Sensor Fusion
Energy Harvesting for Wireless Sensor Nodes
Sanfoundry is looking for Interns who are passionate about their field of study and like core subjects in Instrumentation Engineering. Every intern contributes to Sanfoundry's Global learning project during their internship and is Mentored and Guided by our
Founder and CTO
. If you are interested to contribute and apply,
here's full detail of Sanfoundry's Internship Program
.

Sanfoundry Global Education & Learning Series – Instrumentation Engineering Internships!