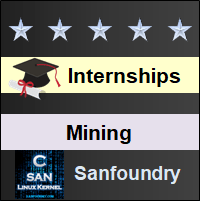 Sanfoundry located at Bangalore offers internships to deserving B.Tech/M.Tech Students in Mining Engineering Branch. In Mining Engineering internships offered by Sanfoundry, shortlisted interns will be working towards the creation of useful artifacts like questions and answers, tutorials, articles, real-world problems and solutions on Mining Engineering. Moreover, every intern working on Mining Engineering internship will focus on one specific subject under the Mining branch. This will help the intern to develop an in-depth understanding of that particular subject in their branch.
Here's the list of topics for Internship in "Mining Engineering".
Environmental Engineering
Thermodynamics
Engineering Geology
Application of Remote Sensing in Mining
Applied Analysis
Applied Geo-Mechanics
Applied Rock Engineering
Applied Rock Mechanics & Numerical Modelling
Basic Electronics
Collaborative Mining & Legal Due Diligence
Underground Metal Mining
Commercial Polymetallic Mining & Simulation
Development of Mineral Deposits
Dynamics
Earth's Crust
Engineering Economic Analysis
Economics
Economics of Mining Enterprises
Electrical engineering
Rock Mechanics
Economic Geology
Environment Impact Assessment and Auditing
Environmental Issues
Exploration and Field Mapping
Exploration Geophysics
Extra Terrestrial Mining
Field Trips
Fluids
Geo-statistics and Mineral Evaluation
Geostatistics
Humanities and Social Science
Hydrogeological Management
Industrial Training
Environmental Geology
Material Handling System
Methods of Sub Surface Mining
Methods of Surface Mining
Mine Development
Underground Coal Mining
Mine Hazards and Rescue
Mine Legislation and Safety
Mine Machinery
Mine Management
Mine Planning & Design
Mine Plant Design
Mine Surveying
Mine Systems
Mine Ventilation
Mineral and Natural Resource Law
Mineral Deposits
Mineral Economics & Exploration Risk
Mineral Exploration and Strategic Decision Analysis
Mineral Processing Technology
Mining Geology
Mining Hazards and Rescuing Operations
Mining Machinery
Mining of Deep Seated Deposits
Occupational Health & Safety
Petroleum Exploration
Placer Mining
Probability and Statistics
Quantitative Decision Making
Radioactive Mineral Deposits & Validation
Ventilation and Climate Control
Rock Slope Technology
Sand Mining
Science Of Living System
Secondary Mining
Technical Writing
Soil Mechanics
Solid Fuel and Clean Coal Technology
Solid Mechanics
Statistics
Advanced Quantitative Decision Making
Advanced Subsurface Coal Mining
Advanced Subsurface Metal Mining
Biology for Engineers
Coal Preparation
Computational Geomechanics
Surface Mining
Elements of Petroleum Engineering
Engineering Statistics
Explosive and Blast Design
Fire Safety Engineering
Fluid Power for Mining Machinery
Tunneling and Underground Space Technology
Fundamentals and Applications of GPS Technologies
Geodesy and Photogrammetry
Geospatial Imaging and Geoinformatics
Ground Control
Industrial Management
Introduction to Nano-Science and Technology
Lean Entrepreneur and New Manufacturing Technology
Logistics and Supply Chain Management
Natural Gas Engineering
Numerical Methods for Subsurface Environment
Oil and Gas Well Testing and Enhanced Oil Recovery
Petroleum and Mineral Trade
Surface Mine Design
Principles of Mine Planning
Principles of Mineral Processing
Problem Solving Techniques
Quality Assurance
Reclamation and Rehabilitation
Soft Computing for Georesources
Resource Evaluation and Geostatistics
Risk and Reliability Engineering
Rock Cutting and Rock Fragmentation
Engineering Mathematics
Chemistry
Basic Electrical Engineering
Engineering Mechanics
Engineering Drawing
Computer Graphics
Basic Electronics
Calculus
Computer Programming and Algorithms
Decision Theory
Earth Processes
Electrical Technology
Engineering Graphics
Computational Physics and Programming
Numerical Modelling of Manufacturing Processes
Sanfoundry is looking for Interns who are passionate about their field of study and like core subjects in Mining Engineering. Every intern contributes to Sanfoundry's Global learning project during their internship and is Mentored and Guided by our
Founder and CTO
. If you are interested to contribute and apply,
here's full detail of Sanfoundry's Internship Program
.

Sanfoundry Global Education & Learning Series – Mining Engineering Internships!
Participate in the Sanfoundry Certification
contest
to get free Certificate of Merit. Join our social networks below and stay updated with latest contests, videos, internships and jobs!