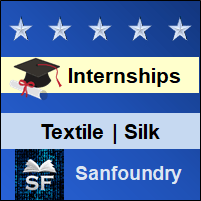 Sanfoundry offers internships to students of the Textile & Silk Engineering branch. The shortlisted interns will be working towards the creation of useful artifacts like questions and answers, tutorials, as well as solving problems in Textile & Silk Engineering. Read frequently asked questions on our internship here and then apply for the internship in the subject of your choice below.
Internships in Core Textile & Silk Engineering Subjects
Textile Fibres
Spinning Technology
Weaving Technology
Chemical Processing of Textiles
Manufactured Fiber Technology
Textile Testing
Textile Fibre Physics
Fabric Structure and Design
Structure and Properties of Silk
Fashion Design and Garment Manufacture
Apparel Testing and Quality Control
Apparel Marketing and Merchandising
Textile & Silk Engineering Internships on Elective Subjects
Sericulture and Silk Technology
Erection and Maintenance of Textile Machinery
Nano Textiles
Knitting and Non-Woven Technology
Financial Management
Internships on Advanced Topics in Textile & Silk Engineering
Fibre Reinforced Composites
Smart Textiles
Retail Management
Technical Textiles
CAD/CAM in Textiles
Operation Research Techniques
Here is full detail of Sanfoundry Internship Program.
Participate in the Sanfoundry Certification
contest
to get free Certificate of Merit. Join our social networks below and stay updated with latest contests, videos, internships and jobs!