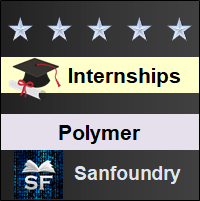 Sanfoundry offers internships to students of the Polymer Engineering branch. The shortlisted interns will be working towards the creation of useful artifacts like questions and answers, tutorials, as well as solving problems in Polymer Engineering. Read frequently asked questions on our internship here and then apply for the internship in the subject of your choice below.
Internships in Core Polymer Engineering Subjects
Polymer Physics
Polymer Rheology
Plastics Materials
Rubber Materials
Mould Manufacturing Technology
Plastics Processing
Characterization of Polymers
Rubber Compounding
Design of Moulds and Dies for Polymers
Rubber Processing and Machinery
Testing of Polymers
Polymer Blends and Alloys
Polymer Product Design
Rubber Product Manufacturing
Polymer Engineering Internships on Elective Subjects
Fiber Technology
Plastics Packaging Technology
Polyurethane Technology
Plastics Waste Management and Recycling Techniques
Polymer Nanocomposites
Biodegradable Polymers
Polymers in Automobiles
Tyres and Tubes Technology
Polymer Reaction Engineering
Internships on Advanced Topics in Polymer Engineering
Latex Technology
Conducting Polymers
Polymers for Energy Storage Applications
Biomedical Plastics
Paints and Surface Coatings
Thermoplastic Elastomers
Advanced Plastics Processing
Speciality Polymers
Footwear Technology
Speciality Elastomers
Here is full detail of Sanfoundry Internship Program.
Participate in the Sanfoundry Certification
contest
to get free Certificate of Merit. Join our social networks below and stay updated with latest contests, videos, internships and jobs!