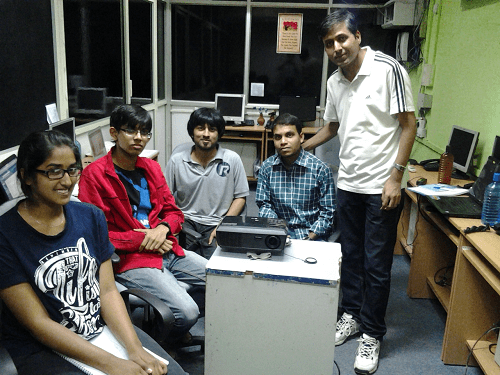 Sanfoundry has Launched Summer and End-Semester College Projects for Engineering students at Bangalore, India. Sanfoundry welcomes student of IITs, NITs, Private and Government Aided Engineering Students to join one of the most challenging college project with focus on deep design and development of software products. All the students would be directly working under Manish Sir, our Founder and CTO.
Students from top Universities and colleges such as IIT, IT-BHU, DCE, NIT Trichy/Suratkal, BITS Pilani, University of California, Irvine, University of Texas, Austin, PESIT Bangalore, SRM Chennai, VIT Vellore and many engineering colleges have already benefited a lot from the guidance and learning imparted to them by Manish Sir.
In India, we have thousand of Engineering colleges where almost everybody does a college-project in Java or Web but nobody focuses on Core Computer Science, Algorithms and real world tough engineering projects. There have been templates (ready made projects with source code) in many training institutes who simply sell these projects to many students at dirt cheap prices. There is no skills imparted and no guidance given whatsoever to these students. As a result, instead of learning and acquiring design skills, most of these students brain simply goes to drain. Many of these students after completing their engineering education lack any significant skill and are put into dull jobs (testing, documentation, maintenance and BPO) which is not what anyone has envisaged for their future.
So, here's set of soul searching questions to you:
1. Are you interested to design, develop and code a software from scratch (0 line of source code to 1000s of lines of source code)?
2. Are you interested in Server Engineering, Network Engineering or Storage Engineering?
3. Do you love programming or would like to jumpstart in C (the ultimate language which is simple to read, but difficult to master)?
4. Do you love Linux or would like to jumpstart in Linux, the ultimate platform of today's HiTech World and for a forseeable future?
5. Are you interested to experience design & implementation of products?
6. Are you interested to align your career towards product designs and engineering?
7. Are you planning to join Top paying MNCs with Highest Quality Work (The likes of Google, Facebook, Flipkart, Cisco, Intel, Yahoo, Brocade, Amazon, EMC, VMware, Alcatel, Lucent, Ericsson, ST Microelectronics, Huawei, Citrix and many many startups)?
8. Are you interested to contribute towards Open-Source software and don't know how to proceed?
9. Do you have the guts to put yourself into a challenging and bright career path?
If the answers to the above is a 100% Yes, then read on….
Sanfoundry has launched one of its kind College-Project for Engineering Students who are looking for a rock solid product design, engineering and implementation during their summers or final and/or end semesters. The project will focus on Server, Networking and SAN domains of Engineering which are real, contemporary, challenging and rewarding. The platform of choice is Linux and the implementation will happen primarily in C language.
Here's the highlight of Sanfoundry's Summer and End-Semester College Project Plan @ Bangalore
1. All students would be working directly under Manish Sir, our Founder & CTO. Read about his experience and bio-data here.
2. Students would be given options to choose 1 project either in Networking or Storage Domain.
3. Duration: Min 2-months to maximum 6-months (Depending on Student's requirement).
4. Timing: 4 hours per day.
5. Students need to bring their own laptop (Windows or Linux or Mac).
6. Sanfoundry will give virtualization software along with Ubuntu Linux Virtual Appliance to every student.
7. Student would be given training in following topics to get started:
– Virtualization Engines (Free)
– Linux Environment (Free)
– Advanced C Programming Lab (32 hours – 29500 INR Fees)
– Linux System Programming Lab (32 hours – 29500 INR Fees)
– Networking OR Multi-threaded Programming Lab (16 hours – 15000 INR Fees)
– Project Work (Included in the above price)
Upcoming Batches
We prefer to train "A group of students" from a given college so that it becomes easy for batch formation for your college timelines. Call us for upcoming batch dates.
Fee and Registration Process
1. Total Fee: Depends on your duration and the topics you are choosing above. Additional Service Tax of 15% will be applicable on the fee.
2. To book a seat, you need to pay an initial amount of 1000 INR
3. Balance amount have to be paid on Day1 of the project start date
4a. Bank Account Details: Pay the initial fee of 1000 INR Online/NEFT/Cheque/Cash-Deposit to any of the bank account below:
ICICI Bank
Beneficiary Name: Sanfoundry
Beneficiary A/C No: 107505000356
Beneficiary Account Type: Current Account
Bank Name: ICICI Bank Ltd, Sarjapur Road Branch, Bangalore
Bank IFSC Code: ICIC0001075
Bank Swift Code: ICICINBBXXX (Code for International Wire Transfer)
State Bank of India
Beneficiary Name: Sanfoundry
Beneficiary A/C No: 31941116186
Beneficiary Account Type: Current Account
Bank Name: State Bank of India, Sarjapur Road Branch, Bangalore
Bank IFSC Code: SBIN0010363
4b. After payment, send an email to [email protected] with your payment details. Details shall include your name, email id, mobile number, date & amount of payment, bank account name / transaction id / cheque no, as applicable.
4c. You will receive a payment confirmation mail from us shortly.
4d. Call Us at +91-8904258320 for any clarification.
Accommodation Facility
There are many P.G. Accommodations nearby (1-2 Kms distance) from the training facility. We don't have tie-up with any P.G. accommodation, but we can suggest few P.G. accommodations nearby. You have to talk to them directly for your stay. The cost of stay ranges from 3500 INR to 6500 INR per month depending on your choice of stay and/or food.