Solid State Chemistry Questions and Answers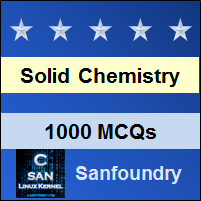 Our 1000+ Solid State Chemistry questions and answers focuses on all areas of Solid State Chemistry subject covering 100+ topics in Solid State Chemistry. These topics are chosen from a collection of most authoritative and best reference books on Solid State Chemistry. One should spend 1 hour daily for 2-3 months to learn and assimilate Solid State Chemistry comprehensively. This way of systematic learning will prepare anyone easily towards Solid State Chemistry interviews, online tests, examinations and certifications.
Highlights
– 1000+ Multiple Choice Questions & Answers in Solid State Chemistry with explanations
– Every MCQ set focuses on a specific topic in Solid State Chemistry Subject
Who should Practice these Solid State Chemistry Questions?
– Anyone wishing to sharpen their knowledge of Solid State Chemistry Subject
– Anyone preparing for aptitude test in Solid State Chemistry
– Anyone preparing for interviews (campus/off-campus interviews, walk-in interview and company interviews)
– Anyone preparing for entrance examinations and other competitive examinations
– All – Experienced, Freshers and Students
Here's list of Questions & Answers on Solid State Chemistry Subject covering 100+ topics:
1. Questions & Answers on Preparative Methods
The section contains questions and answers on solid state reaction, melts crystallization, intercalation reactions, electrochemical reduction methods, thin films preparation, single crystals growth, solid survey techniques and its applications, high pressure and hydrothermal methods.
2. Questions on Thermal Analysis
The section contains questions on thermogravimetric analysis, differential thermal analysis and scanning calorimetry, dta and tga applications.
3. Questions & Answers on X-Ray Diffraction
The section contains questions and answers on xrays and its generations, diffraction, definitions, xray diffraction experiment, intensities, powder pattern stress effect, modern x-ray powder techniques and applications, fluorescence radiation, powder patterns structure, crystal symmetry influence and phases mixtures.
4. Questions on Descriptive Crystal Chemistry, Point Groups, Space Groups and Crystal Structure
The section contains questions on point and space groups, crystal structures description, structure types and silicate structures.
Point Groups
Space Groups
Space Groups and Crystal Structures
Description of Crystal Structures
Some Important Structure Types
Silicate Structures
5. Questions & Answers on Some Factors which Influence Crystal Structures
The section contains questions and answers on preliminary survey, ionic and polymeric structures, mooser, non bonding electrons effect, bond valence and length.
Preliminary Survey
Ionic Structures
Coordinated Polymeric Structures
Mooser
Bond Valence and Bond Length
Non-Bonding Electrons Effect
6. Questions on Crystal Defects and NonStoichiometry
The section contains questions on perfect and imperfect crystals, defects types, point defects, defect clusters, aggregates, interchanged atoms, extended defects, nonstoichiometry defects and solids mechanical properties.
Perfect and Imperfect Crystals
Types of Defects
Point Defects
Defect Clusters or Aggregates
Interchanged Atoms
Extended Defects
Nonstoichiometry and Defects
Dislocations, Mechanical Properties and Reactivity of Solids
7. Questions & Answers on Solid Solutions
The section contains questions and answers on studying solid solutions methods, substitutional and interstitial solids solutions.
Substitutional Solids Solutions
Interstitial Solid Solutions
More Complex Solid Solution Mechanisms
Experimental Methods for Studying Solid Solutions
8. Questions on Phase Transitions
The section contains questions on phase transition, buerger's classification, phase transitions classification, g-t diagrams application, ubbelohde classification, kinetics phase transitions and crystal chemistry.
Phase Transition
Buerger's Classification
Thermodynamic Classification of Phase Transitions
Application of G-T Diagrams
Ubbelohde Classification
Representation of Phase Transitions on Phase Diagrams
Kinetics of Phase Transitions
Crystal Chemistry and Phase Transitions
9. Questions & Answers on Interpretation of Phase Diagrams, Ionic Conductivities and Solid Electrolytes
The section contains questions and answers on phase diagrams definitions, one, two and three components condensed systems, typical ionic crystals, solid electrolytes, conductivity measurements, experimental techniques and solid electrolytes application.
Definitions of Phase Diagrams
One Component Systems
Two Component Condensed Systems
Three Components Condensed Systems
Typical Ionic Crystals
Solid Electrolytes
Conductivity Measurements
Other Experimental Techniques
Application of Solid Electrolytes
10. Questions on Electronic Properties and Band Theory
The section contains questions on metals, insulators and semiconductors, simple band theory refinments, metals and insulators band structures, controlled valency semiconductors, semiconductors application, colour and band structures of inorganic solids.
Metals, Insulators and Semiconductors
Electronic Structure of Solids
Refinements to Simple Band Theory
Band Structures of Metals
Band Structures of Insulators
Band Structures of Semiconductors
Controlled Valency Semiconductors
Application of Semiconductors
Band Structures of Inorganic Solids
Colour in Inorganic Solids
11. Questions & Answers on Other Electrical Properties
The section contains questions and answers on thermoelectric effects, hall effect, dielectric materials, ferroelectricity, pyroelectricity, piezoelectricity, relationship and application between ferro, pyro and piezoelectricity.
Thermoelectric Effects
The Hall Effect
Dielectric Materials
Ferroelectricity
Pyroelectricity
Piezoelectricity
Relationship between Ferro, Pyro and Piezoelectricity
Applications of Ferro, Pyro and Piezoelectricity
12. Questions on Magnetic Properties, Optical Properties of Luminescence, Lasers
The section contains questions on magnetic properties basics, theory, structures and properties, lasers, luminescence and phosphors.
Introduction of Magnetic Properties
Theory of Magnetic Properties
Selected Examples of Magnetic Properties, their Structures and Properties
Applications of Structures, Properties Relations
Luminescence and Phosphors
Lasers
13. Questions & Answers on Glass
The section contains questions and answers on glass formation factors and thermodynamics, kinetics of crystallization, liquid immiscibility, chalcogenide and glass ceramics.
Factors that Influence Glass Formation
Thermodynamics of Glass Formation
Kinetics of Crystallization and Glass Formation
Structure of Glasses
Liquid immiscibility and Phase Separation in Glasses
Chalcogenide and other Semiconducting Glasses
Glass Ceramics
14. Questions on Cement and Concrete, Organic Solid State Chemistry
The sections covers questions on portland cement, topochemical control of solid state organic reactions and electrically conducting organic solids.
Portland Cement
Topochemical Control of Solid State Organic Reactions
Electrically Conducting Organic Solids
If you would like to learn Solid State Chemistry thoroughly, you should attempt to work on the complete set of questions and answers mentioned above. It will immensely help anyone trying to crack an exam or an interview.
Here's the list of Best Reference Books in Solid State Chemistry.
Wish you the best in your endeavor to learn and master Solid State Chemistry!