SAN – Storage Area Networks Questions & Answers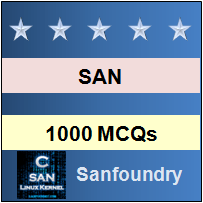 Our 1000+ SAN questions and answers focuses on all areas of Storage Area Networking Domain. These are useful for both experienced professionals as well as freshers. These questions have been broken down into various sections of SAN domain viz. Storage Topologies such as SAN, NAS, DAS, CAS; Storage Protocols likes SATA, ATA, Parallel SCSI, Serial SCSI – SAS, Fiber Channel & iSCSI; Storage Technologies like RAID, Volume Manager; Storage Virtualization, Storage Management and Data Management Areas.
Highlights
– 1000+ Multiple Choice Questions & Answers in SAN – Storage Area Networks
– Lots of MCQs with coverage of Entire SAN Domain
– Lots of Interview Questions on Core Storage Fundamental Technologies
– Definitions of various Storage Terminologies
Who should Practice these SAN Storage Questions?
– Anyone wishing to sharpen their skills on Storage Area Networks
– Anyone preparing for SAN Certification Examinatations (CompTIA Storage+, SNIA, EMC-ISM, Brocade/Cisco/IBM/Hitachi Certifications, etc.)
– Anyone preparing for storage interviews (Interview for EMC, Netapp, IBM, HP, Cisco, Brocade, Emulex, Qlogic, LSI, Quantum, etc.)
– Anyone preparing for entrance examinations and other competitive examinations
– All – Experienced, Fresher and Student
Here's the listing of SAN Topics for MCQs
Here's the listing of Interview Questions on Storage Area Networks
Sanfoundry Global Education & Learning Series – Storage Area Networks
If you would like to learn SAN domain thoroughly, you should attempt to work on the complete set of SAN questions and answers mentioned above. It will immensely help anyone trying to understand the Storage domain or crack an interview.
Here's the list of Best Reference Books in Storage Area Networks.
Wish you the best in your endeavor to learn and master Storage Area Networks!