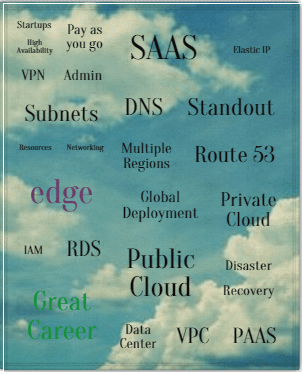 Course Name
Cloud Computing Essentials Training – Amazon Web Services (Beginner Level) Training
Course Overview
Cloud Computing Training is a detailed introductory course on Amazon Cloud. The Amazon Web Services is one of the most widely used infrastructure services in the world. Most of the Organizations have already embraced Amazon Cloud or in the process of doing so. So having a thorough understanding and the practical exposure to the Technology will help you to stay relevant in the newly emerging computing environment and the Job Market.
This introductory training course is targeted towards engineers and professionals who would like to get a practical introductory exposure on cloud Technologies.
Following is an excerpt from an article published in the economic times.
"Cloud computing is one of the thrust areas in the national IT and ITeS policies. In order to benefit from cloud, the Department of Electronics and IT (DeitY) has taken an ambitious project known as 'GI Cloud'. This is the Indian government's initiative to enable both Central and State governments to leverage cloud computing for effective delivery of eServices. This will boost job opportunities for tech professionals in future"
Course Highlights
Cloud Technology – explanation in Layman's terms
Hands-on concepts for designing and building Highly available and Fault Tolerant Systems
Discussion on Customer use cases
Building Strong Foundation for Solution Architect – Associate Level Certification
Course Delivery
Training will be delivered by a Senior Cloud Professional with 19+ Years of Industry Experience
70% Cloud design, concepts and 30% Lab/Implementation
Location: Sanfoundry Institute, Bangalore, India
Hands-on – 5 Lab assignments
Course Material will be provided
Course Duration
2 days
Target Audience
Anyone who would like to get a head start on Cloud Technologies
IT administrators who are planning to move their infrastructure on to the cloud
Anyone who would like to increase their Job prospects – Cloud is a big Market provided you know the Fundamentals
IT Professionals aspiring to become a Qualified Cloud Solution Architect
Ideal Course for System Administrators, Software Engineers, Managers and Architects
Java/Python/C/C++ Engineers who would like to pickup cloud Technologies for a more rewarding career
Anyone who is looking for a job or fearing an imminent job loss due to the rapid Cloud adoption
Fee, Schedule & Registration
Click Here for Cloud Essentials course training schedule, fee and registration information or if you are interested in Class-room training @ Bangalore.
Click Here if you are a Foreign National, Overseas Participant or an NRI for Online Training.
Cloud Essentials Training Course Outline
Module 1 – Cloud Computing Introduction
Requirements
Use cases or Examples
IT Datacenter Migration towards Cloud – The Motivation Behind it
Characteristics
Deployment Models (Public, Private, Community, Hybrid)
Service Models (IAAS, PAAS, SAAS)
Virtualization from a Cloud Perspective
Types of Virtualization
Cloud Evolution
Benefits
Limitations
Module 2 – Cloud Service Provider Infrastructure – Design Aspects
Cloud Infrastructure Design – Essential ingredients
Datacenter Migration towards cloud
Development and Test Setup on Cloud
Product Deployment on Cloud
Pricing Considerations
Module 3 – Amazon AWS Introduction
AWS Global Infrastructure Design Concepts
Regions, Availability zones
Compute – EC2
Object Storage – S3
Block Storage – EBS
Glacier
Amazon Machine Image (AMI)
Content Delivery Network On Cloud
Database on Cloud – RDS, SQL and NoSQL
Fault Tolerant and High Availability Architecture – FTHA