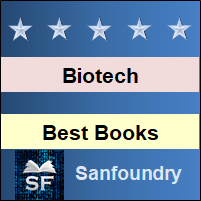 Biotechnology is defined as the application of organisms, cells, components, and molecular analogs for products and services through the integration of natural sciences and engineering sciences. Here's a comprehensive compilation of recommended books on biotechnology for beginners and experts as well as books on animal biotechnology, industrial biotechnology, environmental biotechnology, food biotechnology, clinical biotechnology, and microbial biotechnology. We have also listed down biotechnology books for school, and biochemical engineering.
Here's a full list of Biotechnology Books with their authors, publishers, and an unbiased review of books as well as links to the Amazon website to directly purchase these books.
Kindly note that we have put a lot of effort into researching the best reference books on Biotechnology and came out with a recommended list. If any more book needs to be added to this list, please let us know.