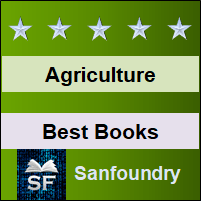 Agriculture is the science or practice of farming, which includes soil cultivation for agricultural production and animal rearing for food, wool, and other products. Here's a category-wise compilation of a list of books on agriculture for beginners and advanced users as well as books on agricultural production, machinery, technologies used, and different types of agriculture like precision agriculture and sustainable agriculture. Additionally, we have listed the books on agricultural economics, finance, marketing, meteorology, extension, and books on agriculture methods and technologies followed in various countries.
List of Agriculture Books with author's names, publishers, and an unbiased review as well as links to the Amazon website to directly purchase these books.
Kindly note that we have put a lot of effort into researching the best reference books on Agriculture and came out with a recommended list. If any more book needs to be added to this list, please let us know.