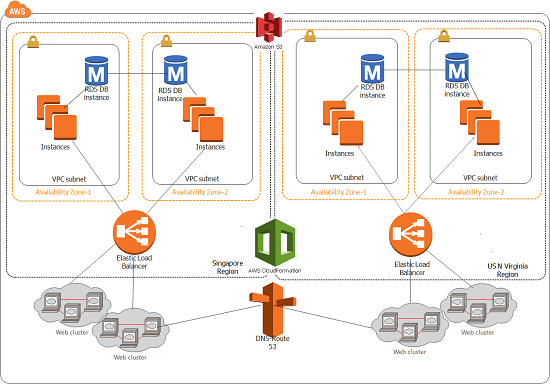 Course Name
Advanced Cloud Computing Training – Solution Architecting on Cloud using AWS or Amazon Web Services (Advanced Level)
Course Overview
This is an advanced level Cloud Computing Architecture training course. This course will empower the participants to become a qualified Cloud Solution Architect. Acquiring the AWS associate level certificate will only be a matter of procedure, once you have become a Qualified Solution Architect upon attending this course. Participants will gain all required materials and knowledge for passing the solution architecture Associate examination.
Required hands-on concepts for the Cloud infrastructure management, Design and implementation will be provided as part of the course. This course will also equip the Participants to design and build Fault Tolerant and High Available (FTHA) architecture on the cloud.
Course Duration
4 days
Target Audience
IT Professionals aspiring to become a Cloud Solution Architect
IT Administrators who would like to move the On Premise Infrastructure on to the Cloud
Cloud Developers who would like to get an In-depth understanding of the Architecture
Anyone who would like to appear for Cloud Solution Architect – Associate Certification
Java/Python/C/C++ Engineers who would like to pickup cloud Technologies for a more rewarding career
Anyone who is looking for a job or fearing an imminent job loss due to a Cloud Migration
Pre-requisite
Basic Understanding of Amazon Cloud Services
Course Delivery
Training will be delivered by a Senior Cloud Professional with 19+ Years of Industry Experience
30 % Advanced cloud design concepts and 70% Lab/Implementation
Location: Sanfoundry Institute, Bangalore, India
Hands-on – 20 Lab assignments that will cover all aspects of Design and Implementation
Comprehensive Course Material covering all design aspects – This will act as your reference guide in future
Fee, Schedule & Registration
Click Here for Advanced Cloud training course schedule, fee and registration information or if you are interested in Class-room training @ Bangalore.
Click Here if you are a Foreign National, Overseas Participant or an NRI for Online Training.
Advanced Cloud Training Course Outline – Architecting on Cloud using AWS or Amazon Web services (Advanced Level)
Module 1 – AWS Introduction – Refresher
AWS Global Infrastructure Design Concepts
Regions, Availability zones
AWS Management Console Overview
Compute, Storage and Network Abstraction
Creating and Managing a compute Instance (EC2)
Module 2 – AWS Storage – Deep Dive
Object Storage – S3
Reduced Redundancy Storage Option – S3
Block Storage – EBS
Archiving – Glacier
RDS Service -SQL and NO SQL
Use cases and Deployment Scenarios
Module 3 – Global Content Delivery Network
Edge Locations
Amazon DNS Service ( Route 53)
Content Delivery Network – Concepts (CDN)
Amazon Cloud front
Module 4 – High Availability and Fault Tolerant Architecture – Deep Dive
Vertical Scaling
Horizontal Scaling
Load Balancer
Session Storage
Caching
Disaster Recovery
Auto Scaling Concepts
Database Scaling Options
Amazon Machine Image (AMI)
Amazon Elastic Load Balancer ( ELB)
Amazon DNS Service ( Route 53)
Content Delivery Network (CDN)
Module 5 – Identity and Access Management
Introduction
Benefits
Users and Groups
Roles
Policy
Module 6 – Creating Networks on the Amazon Cloud – Deep Dive
Virtual Private Cloud – VPC and Networking
Network Interface
Private Subnet
Public Subnet
Routing
Security
Classless inter domain routing (CIDR) Notation
Network Address Translation (NAT)
Extending your on Premise Network – Hybrid options
Storage Gateway
Cloudburst concepts
Datacenter to Cloud Connectivity options
Module 7 – Programmable Infrastructure
Infrastructure as a Code – Design Aspects
Policy Files
Amazon Cloud formation
Elastic Beanstalk
AWS Command Line interface
Module 8 – Messaging Services
Queuing Service (SQS)
Mailing Service (SNS)
Module 9 – Cloud Monitoring Architecture and Self Healing
Cloud watch
Cloud Trail
AWS Config
Module 10 – Amazon Security Architecture
Shared Security Model
Amazon Security Services
Encryptions
Access controls
Module 11 – Big Data
Big Data Architecture – Introduction
Amazon Elastic Map Reduce (EMR)
Module 12 – Architecting on AWS – Best Design Practices
AWS Design Checklist and Outline
AWS Migration and Deployment use cases
Module 13 – Amazon Solution Architect Exam Preparations
Amazon Solution Architect Exam Preparations
Gauge your Knowledge
Next steps