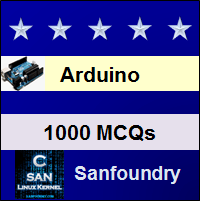 Our 1000+ Arduino questions and answers focuses on all areas of Arduino subject covering 100+ topics in Arduino. These topics are chosen from a collection of most authoritative and best reference books on Arduino. One should spend 1 hour daily for 2-3 months to learn and assimilate Arduino comprehensively. This way of systematic learning will prepare anyone easily towards Arduino interviews, online tests, examinations and certifications.
Highlights
– 1000+ Multiple Choice Questions & Answers in Arduino with explanations
– Every MCQ set focuses on a specific topic in Arduino Subject
Who should Practice these Arduino Questions?
– Anyone wishing to sharpen their knowledge of Arduino Subject
– Anyone preparing for aptitude test in Arduino
– Anyone preparing for interviews (campus/off-campus interviews, walk-in interview and company interviews)
– Anyone preparing for entrance examinations and other competitive examinations
– All – Experienced, Freshers and Students
Here's list of Questions & Answers on Arduino Subject covering 100+ topics:
1. Questions & Answers on Board Specifications and Types
The section contains questions and answers on different arduino boards, arduino board hardware specifications and pinout structure.
2. Questions on AtMega Microcontroller Specifications
The section contains questions on atmega 2560, atmega 328, atmega 32u4 and atmega 168.
3. Questions & Answers on Arduino Programming
The section contains questions and answers on arduino programming languages, preprocessing, compilation, uploading, pin mode setting, setup and loop functions, digital and analog input output, standard libraries, serial and stream communications, operators, control structures, looping, time functions, datatypes, mathematical functions, string manipulation, variable scope, interrupt service routine, progmem utility and sizeof() function.
4. Questions on Interfacing of Sensors, Actuators, and Other Modules
The section contains questions on ir sensor, ultrasonic sensor, adxl335 accelerometer sensor, nokia 5110 graphical display module, gsr sensor, mpu6050 sensor module, ldr sensor, relay dual channel module, motor driver l293d, esp8266 wifi module, OV7076 camera module, oled display module, lm35 temperature and mq2 sensor module, rfid module, rotary encoder, thermistor, pir sensor module, thermocouple, soil moisture and dht11 sensor, zigbee and hc05 bluetooth modules.
5. Questions & Answers on Software and IDE Architecture
The section contains questions and answers on hardware folder structure, architecture confiurations, global predefined properties, build process, files format configuration, source code compilation and core.a archive file build recipes, linking and binary data recipes, hooks, core subfolder, variations, selections, binary sketch size computational and preprocessor execution recipes.
Hardware Folder Structure
Architecture Confiurations
Operating System Specific Property Override
Global Predefined Properties
Build Process
Configuration Files Format
Source Code Compilation Recipes
core.a Archive File Build Recipes
Linking Recipes
Extraction of Executable Files and Other Binary Data Recipes
Binary Sketch Size Computational Recipes
Preprocessor Execution Recipes
Hooks
Core Subfolder, Variations, Selections
6. Questions on Arduino IDE Functionality
The section contains questions on arduino ide functionality tools, verbose parameters, sketch upload configurations and board menu customization.
Tools
Verbose Parameters
Sketch Upload Configurations
Board Menu Customization
If you would like to learn Arduino thoroughly, you should attempt to work on the complete set of questions and answers mentioned above. It will immensely help anyone trying to crack an exam or an interview.
Wish you the best in your endeavor to learn and master Arduino!