Organic Chemistry Questions and Answers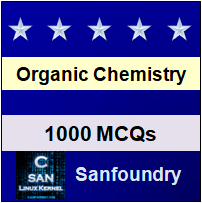 Our 1000+ Organic Chemistry questions and answers focuses on all areas of Organic Chemistry subject covering 100+ topics in Organic Chemistry. These topics are chosen from a collection of most authoritative and best reference books on Organic Chemistry. One should spend 1 hour daily for 2-3 months to learn and assimilate Organic Chemistry comprehensively. This way of systematic learning will prepare anyone easily towards Organic Chemistry interviews, online tests, examinations and certifications.
Highlights
– 1000+ Multiple Choice Questions & Answers in Organic Chemistry with explanations.
– Every MCQ set focuses on a specific topic in Organic Chemistry Subject.
Who should Practice these Organic Chemistry Questions?
– Anyone wishing to sharpen their knowledge of Organic Chemistry Subject.
– Anyone preparing for aptitude test in Organic Chemistry.
– Anyone preparing for interviews (campus/off-campus interviews, walk-in interview and company interviews).
– Anyone preparing for entrance examinations and other competitive examinations.
– All – Experienced, Freshers and Students.
Here's list of Questions & Answers on Organic Chemistry Subject covering 100+ topics:
1. Introduction to Organic Compounds
The section contains questions and answers on chemical bond, orbitals, physical properties, isomerism, acids and bases.
2. Hydrocarbons
The section contains questions on hydrocarbons, chlorination, nomenclature, resonance, organic reactions, quantitative analysis, alkanes, alkenes, alkynes, alkadienes and aromatic hydrocarbons.
3. Organic Concepts
The section contains questions and answers on displacement and nucleophilic substitution reactions, organic compound mechanism, addition and elimination reactions.
Reaction Mechanism of Organic Compounds
Displacement Substitution Reaction
Nucleophilic Substitution Reaction
Electrophilic Substitution Reaction
Addition Reaction
Elimination Reaction
4. Halogen Containing Organic Compounds
The section contains questions on alkyl and aryl halides, polyhalogen derivatives and grignard reagent.
Alkyl Halides
Aryl Halides
Polyhalogen Derivatives
Grignard Reagent
5. Oxygen Containing Organic Compounds
The section contains questions on preparation and reactions of alcohols, phenols, ethers, oxiranes, glycols, glycerol, aldehydes, ketones, benzaldehyde. aldehydes, tautomerism, physical and chemical properties of carboxylic acids, aldehydes, ketones, acid chlorides and anhydrides, amides, esters, saponification, claisen and cross claisen condensation.
Preparation of Alcohols
Reaction of Alcohols
Alcohols as Acids
Preparation of Phenols
Reactions of Phenols
Preparation of Ethers
Reactions of Ethers
Physical Properties of Ethers
Preparation of Oxiranes
Reactions of Oxiranes
Dihydric Alcohols
Reactions of Glycols
Preparation of Glycols
Preparations of Glycerol
Reactions of Glycerol
Preparation of Aldehydes
Preparation of Ketones
Preparation of Benzaldehyde
Preparation of Aromatic Ketones
Physical Properties of Aldehydes
Physical Properties of Ketones
Chemical Properties of Aldehydes
Chemical Properties of Ketones
Nucleophilic Addition Reactions
Condensation Reactions
Tautomerism
Preparation of Carboxylic Acids
Physical Properties of Carboxylic Acids
Chemical Properties of Carboxylic Acids
Acid Chlorides
Acid Anhydrides
Amides
Esters
Trans – Esterification
Saponification
Claisen and Cross Claisen Condensation
Intramolecular Claisen Condensation
6. Nitrogen Containing Organic Compounds
The section contains questions on physical and chemical properties of Amines, aromatic amines preparation and properties, benzene diazonium chloride, preparation and properties of nitro compounds.
Preparation of Amines
Physical Properties of Amines
Chemical Properties of Amines
Preparation of Aromatic Amines
Properties of Aromatic Amines
Benzene Diazonium Chloride
Preparation of Nitro Compounds
Properties of Nitro Compounds
7. Stereochemistry
The section contains questions and answers on stereochemistry, stereoisomers, polarimeter, enantiomerism, chilarity, enantiomers, diastereomers and meso structures.
Stereochemistry
Stereoisomers
Polarimeter
Enantiomerism
Chilarity
Enantiomers
Diastereomers
Meso – Structures
8. Heterocyclic Compounds
The section contains questions and answers on structure and source of pyridine compounds, electrophilic and nucleophilc substitution in pyridine.
Five Membered Rings
Structure of Pyridine
Source of Pyridine Compounds
Electrophilic Substitution in Pyridine
Nucleophilc Substitution in Pyridine
Reduction of Pyridine
9. Polymerisation
The section contains questions and answers on macromolecules, radical vinyl polymerisation, copolymerisation, coordination and step reaction polymerisation.
Macromolecules
Free Radical Vinyl Polymerisation
Copolymerisation
Coordination Polymerisation
Step Reaction Polymerisation
If you would like to learn Organic Chemistry thoroughly, you should attempt to work on the complete set of questions and answers mentioned above. It will immensely help anyone trying to crack an exam or an interview.
Wish you the best in your endeavor to learn and master Organic Chemistry!