Oracle Database Questions and Answers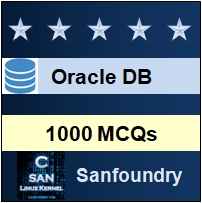 Our 1000+ Oracle Database questions and answers focuses on all areas of Oracle Database subject covering 100+ topics in Oracle Database. These topics are chosen from a collection of most authoritative and best reference books on Oracle Database. One should spend 1 hour daily for 2-3 months to learn and assimilate Oracle Database comprehensively. This way of systematic learning will prepare anyone easily towards Oracle Database interviews, online tests, examinations and certifications.
Highlights
– 1000+ Multiple Choice Questions & Answers in Oracle Database with explanations.
– Every MCQ set focuses on a specific topic in Oracle Database Subject.
Who should Practice these Oracle Database Questions?
– Anyone wishing to sharpen their knowledge of Oracle Database Subject.
– Anyone preparing for aptitude test in Oracle Database.
– Anyone preparing for interviews (campus/off-campus interviews, walk-in interview and company interviews).
– Anyone preparing for entrance examinations and other competitive examinations.
– All – Experienced, Freshers and Students.
Here's list of Questions & Answers on Oracle Database Subject covering 100+ topics:
1. Oracle Database 11g Architecture Options
The section contains questions and answers on oracle db 11g architecture, databases and instances, programmatic oracle structures, storing and guarding the data, installing the oracle database and creating a database.
2. Planning Oracle Applications
The section contains questions on approaches, risks and standards, atomic data and business models, data entry, query and reporting, normalization, foreign key, primary and unique keys.
3. SQL Basics
The section contains questions and answers on structured query language, ddl, dml, dcl and tcl commands, select statements, arithmetic operators, alias, writing sql statements and literal characters.
4. Accessing Remote Data
The section contains questions on sql development environment, database connection and sql worksheet.
Development Environmnets for SQL
Database Connection
SQL Worksheet
5. Using Oracle Text for Text Searches
The section contains questions on sql wildcards, comparison and logical conditions, sorting and variables.
Limiting Rows Using a Selection
SQL Wildcards
Comparison Conditions
Logical Conditions
Sorting
Substitution Variables
6. SQL Functions
The section contains questions on sql functions.
SQL Functions – 1
SQL Functions – 2
SQL Functions – 3
SQL Functions – 4
7. Subquery and Joins
The section contains questions and answers on groups of data, joins, non equijoins, sql clauses, subqueries and its types.
Creating Groups of Data
Joins
Non-Equijoins
Subquery Syntex
Types of Subqueries
SQL Clauses (AND, OR, LIKE, TOP)
8. Changing Data
The section contains questions and answers on set operators, script creation, updating rows, delete statement, database transcations, read consistency, database objects and data types.
Set Operators
Creating a Script
Updating Rows
Delete Statement
Database Transcations – 1
Database Transcations – 2
Read Consistency
Database Objects
Data Types – 1
Data Types – 2
9. Creating and Managing Tables, Views, Indexes and Sequences
The section contains questions on constraints, views, sequences, indexes, data dictionary structure, constraint and view information.
Constraints – 1
Constraints – 2
View – 1
View – 2
Sequences
Indexes
Data Dictionary Structure
Constraint Information
View Information
10. Procedures, Functions and Packages
The section contains questions and answers on pl/sql introduction, procedures, parameters, functions, packages and records, persistent state of packages, oracle supplied packages, job creation, dynamic sql, sql execution flow, pl/sql block and dbms_sql package.
PL/SQL Introduction
Procedures in PL/SQL
PL/SQL Parameters
Functions in PL/SQL
PL/SQL Packages – 1
PL/SQL Packages – 2
PL/SQL Records
Package Functions in SQL
Persistent State of Packages
Oracle Supplied Packages
Creating a Job
Data Dictionary Views
Execution Flow of SQL
Dynamic SQL
Dynamically Executing of PL/SQL Block
DBMS_SQL Package
11. Using Native Dynamic SQL and DBMS_SQL
The section contains questions on pl/sql wrapper, cursor, synonym and collections, autonomous transactions, bulk binding and dependencies.
PL/SQL Wrapper
PL/SQL Cursor
PL/SQL Synonym
PL/SQL Collections
Standardizing Constants and Exceptions
Autonomous Transactions
Bulk Binding
Dependencies – 1
Dependencies – 2
12. Triggers
The section contains questions on lob datatypes, bfiles, triggers, database triggers, native compilation and pl/sql warnings.
LOB Data Types
BFILEs
Triggers – 1
Triggers – 2
Database Triggers
Native Compilation
PL/SQL Warnings
13. Implementing Object Types, Object Views, and Methods
The section contains questions on oracle sequences, tablespace, security, replication and backup.
Oracle Sequences
Oracle Tablespace
Oracle Security
Oracle Replication
Oracle Backup
14. JDBC Programming
The section contains questions on jdbc programming.
JDBC Programming – 1
JDBC Programming – 2
JDBC Programming – 3
JDBC Programming – 4
If you would like to learn Oracle Database thoroughly, you should attempt to work on the complete set of questions and answers mentioned above. It will immensely help anyone trying to crack an exam or an interview.
Here's the list of Best Reference Books in Oracle Database.
Wish you the best in your endeavor to learn and master Oracle Database!