HTML Questions and Answers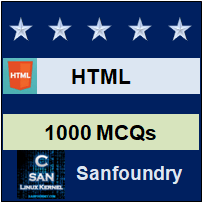 Our 1000+ HTML questions and answers focuses on all areas of HTML subject covering 100+ topics in HTML. These topics are chosen from a collection of most authoritative and best reference books on HTML. One should spend 1 hour daily for 2-3 months to learn and assimilate HTML comprehensively. This way of systematic learning will prepare anyone easily towards HTML interviews, online tests, examinations and certifications.
Highlights
– 1000+ Multiple Choice Questions & Answers in HTML with explanations.
– Every MCQ set focuses on a specific topic in HTML Subject.
Who should Practice these HTML Questions?
– Anyone wishing to sharpen their knowledge of HTML Subject.
– Anyone preparing for aptitude test in HTML.
– Anyone preparing for interviews (campus/off-campus interviews, walk-in interview and company interviews).
– Anyone preparing for entrance examinations and other competitive examinations.
– All – Experienced, Freshers and Students.
Here's list of Questions & Answers on HTML Subject covering 100+ topics:
1. HTML Fundamentals
The section contains questions and answers on html basics and rules, web browsers, editors and ides, metadata, microdata, favicons & icons, html major themes, web servers and compatibility libraries.
2. HTML Markup, Forms, Video, Audio & Other Multimedia
The section contains questions on web markup, document structures, open media effort, video and audio, canvas graphics, forms, scalable vector graphics, mime types, web storage, forms input types and its working, web socket communications and minification.
3. HTML and XHTML Fundamentals
The section contains questions and answers on html and xhtml elements and attributes, HTML 4.x and XHTML 1.x character entities.
4. HTML Fonts, Tags and Elements
The section contains questions on document type definitions, semantic structures and elements, drag and drop, html fonts and geolocation API.
5. HTML Images & Web page Files
The section contains questions on cache files, image optimizations, url encoding, web databases, data-smart websites creation, image sprtes and client side templating.
Application Cache and Cache Manifest File
Optimization of Images
Using Image Sprites
Adding HTML Features Safely with Modernizr
Creating Data-Smart Websites
URL Encoding
Web Databases
Standardizing Client-Side Templating
Web Performance Optimization
6. HTML Tables, Javascript & Jquery Basics
The section contains questions on tables, performance analytics, javascript and jquery basics.
Working with Tables
Performance Analytics
Essential JavaScript and JQuery
If you would like to learn HTML thoroughly, you should attempt to work on the complete set of questions and answers mentioned above. It will immensely help anyone trying to crack an exam or an interview.
Here's the list of Best Reference Books in HTML .
Wish you the best in your endeavor to learn and master HTML!