Fluid Mechanics Questions and Answers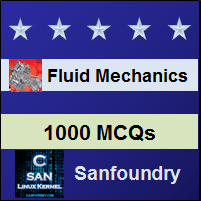 Our 1000+ Fluid Mechanics questions and answers focuses on all areas of Fluid Mechanics subject covering 100+ topics in Fluid Mechanics. These topics are chosen from a collection of most authoritative and best reference books on Fluid Mechanics. One should spend 1 hour daily for 2-3 months to learn and assimilate Fluid Mechanics comprehensively. This way of systematic learning will prepare anyone easily towards Fluid Mechanics interviews, online tests, examinations and certifications.
Highlights
– 1000+ Multiple Choice Questions & Answers in Fluid Mechanics with explanations.
– Every MCQ set focuses on a specific topic in Fluid Mechanics Subject.
Who should Practice these Fluid Mechanics Questions?
– Anyone wishing to sharpen their knowledge of Fluid Mechanics Subject.
– Anyone preparing for aptitude test in Fluid Mechanics.
– Anyone preparing for interviews (campus/off-campus interviews, walk-in interview and company interviews).
– Anyone preparing for entrance examinations and other competitive examinations.
– All – Experienced, Freshers and Students.
Here's list of Questions & Answers on Fluid Mechanics Subject covering 100+ topics:
1. Properties of Fluids
The section contains questions and answers on fluid mechanics basics and properties, viscosity, vapor pressure, compressibility and bulk modulus, fluids types, surface tension, capillarity and thermodynamic properties.
2. Pressure and Its Measurement
The section contains questions on pressure distribution in fluid, pressure measurement, pascals law and compression fluid pressure point.
3. Hydrostatic Forces on Surfaces
The section contains questions and answers on hydrostatic force on plane area, pressure distribution in liquid, horizantal and inclined plane in liquid, total pressure and vertical plane surface.
4. Buoyancy and Floatation
The section contains questions on buoyancy, metacenter and metacentric height, manometer, equilibrium conditions and atmospheric pressure and barometer.
5. Kinematics of Flow and Ideal Flow
The section contains questions on fluid flow types and methods, continuity equation & its dimensions, flow lines types, velocity and acceleration, vortex flow, important cases of potential and super imposed flow.
6. Fluid Dynamics
The section contains questions on euler and bernoulli equations of motion, bernoulli applications, newtons first and second law, navier strokes equation, free liquid jet, impulse and moment of momentum equation.
7. Orifices, Mouthpieces, Notches and Weirs
The section contains questions and answers on orifice, notches and weirs classification, large orifice flows, discharge over notches or weirs, time required to empty reservoir with notches and weirs.
8. Viscous Flow & Turbulent Flow
The section contains questions and answers on shear stress in viscous and turbulent flow, piston movement, flow of viscous fluid through circular pipes and parallel plates, power absorption, universal velocity distribution, viscosity coefficient and frictional losses in pipes.
Shear Stress and Pressure Gradient
Flow of Viscous Fluid Through Circular Pipes
Flow of Viscous Fluid Between Two Parallel Plates
Kinetic Energy Correction and Momentum Correction Factors
Power Absorbed in Viscous Flow
Loss of Head due to Friction in Viscous Flow
Movement of Piston in Dash Pot
Shear Stress In Turbulent Flow
Universal Velocity Distribution
Resistance of Smooth and Rough Pipes
Methods of Determination of Coefficient of Viscosity
Frictional Losses in Pipe Flow
9. Flow Through Pipes
The section contains questions on energy losses in pipes, hydraulic gradient, syphon, series and parallel pipes, pipes power transmission, nozzles flow, water hammer, minor energy losses and pipe network.
10. Dimensional and Model Analysis
The section contains questions and answers on dimensional analysis methods, model analysis, similarities types and laws, testing on submerged bodies, moving fluid types and model classifications.
Derived Quantities and Dimensional Homogeneity
Methods of Dimensional Analysis
Model Analysis
Similitude-Types of Similarities
Types of Forces Acting in Moving Fluid
Model Laws or Similarity Laws
Model Testing of Partially Submerged Bodies
Classification of Models
11. Boundary Layer Flow
The section contains questions on turbulent boundary layer and its analysis, boundary layer basics and drag force.
Turbulent Boundary Layer on a Flat Plate
Analysis of Turbulent Boundary Layer
Separation of Boundary Layer
Concept of Boundary Layer
Drag Force on a Flat Plate
12. Forces on Sub-merged Bodies
The section contains questions on drag on a sphere, drag and lift expression, lift development in circular cylinder and airfoil.
Force Exerted by a Flowing Fluid on a Stationary Body
Expression for Drag and Lift
Drag on a Sphere
Development of Lift on a Circular Cylinder
Development of Lift on an Airfoil
13. Compressible Flow
The section contains questions on thermodynamic relations, compressible flow equations, stagnation properties, sound velocity, compressible fluid through orifices and nozzles.
Thermodynamic Relations
Basic Equations of Compressible Flow
Velocity of Sound or Pressure Wave in a Fluid
Stagnation Properties
Area Velocity Relationship for Compressible Flow
Flow of Compressible Fluid through Orifices and Nozzles
Mass Rate of Flow of Compressible Flow
14. Flow in Open Channels
The sections covers questions on flow classifications, chezys formula, specific energy and its curves, hydraulic jump and gradually varied flow.
Classification of Flow in Channels
Discharge through Open Channel by Chezy's Formula
Empirical Formulae for Value of Chezy's Constant
Most Economical Section of Channels
Nonuniform Flow through Open Channels
Specific Energy and Specific Energy Curve
Hydraulic Jump or Standing Wave
Gradually Varied Flow (G.V.F)
15. Impact of Jets and Jet Propulsion
The sections covers questions on exerted force by a fluid jet in stationary and moving flat plate and also stationary and moving curved vane, hinged plate force exerted by jet and jet propulsion.
Force Exerted by a Fluid Jet on a Stationary Flat Plate
Force Exerted by a Fluid Jet on a Moving Flat Plate
Force Exerted by a Fluid Jet on a Stationary Curved Vane
Force Exerted by a Fluid Jet on a Moving Curved Vane
Force Exerted by a Jet on Hinged Plate
Jet Propulsion
16. Turbo Machinery
The sections covers questions on hydraulic turbines, pelton wheel, radial and axial flow reaction turbines, unit quantities, different types of turbines, centrifugal and reciprocating pump.
Classification of Hydraulic Turbines
Pelton Wheel
Radial Flow Reaction Turbines
Axial Flow Reaction Turbines
Unit Quantities
Centrifugal Pump
Reciprocating Pump
Turbines
Francis Turbine
17. Fluid System
The sections covers questions on air vessels, hydraulic press, accumulator, intensifier, ram, lift and crane, air lift and gear wheel pumps.
Air Vessels
Hydraulic Press and Accumulator
Hydraulic Intensifier and Hydraulic Ram
Hydraulic Lift and Hydraulic Crane
Air Lift Pump and Gear Wheel Pump
If you would like to learn Fluid Mechanics thoroughly, you should attempt to work on the complete set of questions and answers mentioned above. It will immensely help anyone trying to crack an exam or an interview.
Here's the list of Best Reference Books in Fluid Mechanics.
Wish you the best in your endeavor to learn and master Fluid Mechanics!