CSS Questions and Answers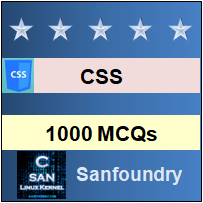 Our 1000+ CSS questions and answers focuses on all areas of CSS subject covering 100+ topics in CSS. These topics are chosen from a collection of most authoritative and best reference books on CSS. One should spend 1 hour daily for 2-3 months to learn and assimilate CSS comprehensively. This way of systematic learning will prepare anyone easily towards CSS interviews, online tests, examinations and certifications.
Highlights
– 1000+ Multiple Choice Questions & Answers in CSS with explanations.
– Every MCQ set focuses on a specific topic in CSS Subject.
Who should Practice these CSS Questions?
– Anyone wishing to sharpen their knowledge of CSS Subject.
– Anyone preparing for aptitude test in CSS.
– Anyone preparing for interviews (campus/off-campus interviews, walk-in interview and company interviews).
– Anyone preparing for entrance examinations and other competitive examinations.
– All – Experienced, Freshers and Students.
Here's list of Questions & Answers on CSS Subject covering 100+ topics:
1. CSS Fundamentals, Colors and Styling
The section contains questions and answers on css basics, functions, fonts, versions, specification and color values, style inclusion methods, specifying sizes, colors and files.
2. CSS Text, Borders and Images
The section contains questions on css borders, text, voice, outlines and box model, media types, border elements, cross browser layout techniques, styling texts, lists and navigation menus, embedding web fonts, gradients, background borders and targeting styles.
3. CSS Selectors & Files
The section contains questions and answers on document styles, specificity and importance, selectors and advanced selectors.
4. CSS Properties, Elements, Functions & Tables
The section contains questions on css and xhtml fundamentals, css inheritance and miscellaneous property, major themes, strings and keywords, css measurements, css properties, styling tables, generated content, layout floating elements, css keyframes, elements precise positioning, transforms and transitions, inheritance and cascade.
5. CSS3 Fundamentals, Transitions & Animations
The section contains questions on css3 images, ui elements transitions, css3 animations, css3 user interface properties, fundamentals and multi column layout.
If you would like to learn CSS thoroughly, you should attempt to work on the complete set of questions and answers mentioned above. It will immensely help anyone trying to crack an exam or an interview.
Here's the list of Best Reference Books in CSS .
Wish you the best in your endeavor to learn and master CSS!