Automobile Engineering Questions and Answers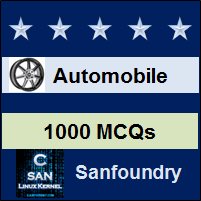 Our 1000+ Automobile Engineering questions and answers focuses on all areas of Automobile Engineering subject covering 100+ topics in Automobile Engineering. These topics are chosen from a collection of most authoritative and best reference books on Automobile Engineering. One should spend 1 hour daily for 2-3 months to learn and assimilate Automobile Engineering comprehensively. This way of systematic learning will prepare anyone easily towards Automobile Engineering interviews, online tests, examinations and certifications.
Highlights
– 1000+ Multiple Choice Questions & Answers in Automobile Engineering with explanations.
– Every MCQ set focuses on a specific topic in Automobile Engineering Subject.
Who should Practice these Automobile Engineering Questions?
– Anyone wishing to sharpen their knowledge of Automobile Engineering Subject.
– Anyone preparing for aptitude test in Automobile Engineering.
– Anyone preparing for interviews (campus/off-campus interviews, walk-in interview and company interviews).
– Anyone preparing for entrance examinations and other competitive examinations.
– All – Experienced, Freshers and Students.
Here's list of Questions & Answers on Automobile Engineering Subject covering 100+ topics:
1. Introduction
The section contains questions and answers on automobiles introduction and history, automobiles classification, automobiles parts, description and performance.
2. Internal Combustion Engines
The section contains questions on heat engines, ic engines applications and development, energy cycle, ic engine cylinder parts, various engine parts, engine valves and its mechanisms, ic engine crankshaft and camshaft, fuel injection systems, flywheel, 2 & 4 stroke engines, comparisons between 2 & 4 stroke engines, si and ci engines, petrol and diesel engines.
3. Engine Construction
The section contains questions and answers on cylinder block, head and liners, piston and its types, combustion chamber, connecting rod and crank shaft.
4. Combustion in S.I. & C.I. Engines
The section contains questions on combustion in si and ci engine, number performance.
Combustion in SI Engine
Performance Number and Related Questions
Combustion in CI Engines
5. Fuels & Supercharging of I.C. Engines
The section contains questions on ic engines fuels, gasoline and diesel fuel properties, supercharging and turbocharging, ic engines performance and testing.
Fuels for IC Engines
Properties of Gasoline Fuel
Properties of Diesel Fuel
Supercharging of IC Engines
Turbocharging
Testing and Performance of IC Engines
6. Fuel Supply System
The section contains questions on fuel injection systems, carburettors, fuel injector pump, fuel system requirements, diesel engine fuel systems, nozzles, multi point fuel injection and injection timers.
Carburettors
Fuel injection Systems
Fuel Pump and Atomiser
Fuel System Requirements
Diesel Engine Fuel System
Fuel Injector Pump
Nozzles
Fuel Feed Pump
Automatic Injection Timers
Multi Point Fuel Injection
7. Cooling & Lubrication Systems
The section contains questions and answers on cooling systems, lubrication and ventilation systems.
| | |
| --- | --- |
| Lubrication and Ventilation Systems | Cooling Systems |
8. Chassis & Transmission System
The section contains questions and answers on chassis and its classifications, automobile suspension system, clutches, gear box, propeller shaft and universal joints.
Chasis and its Classification
Automobile Suspension System
Transmission System – Clutches
Transmission System – Gear Box
Propeller Shaft
Universal Joints and Differential
9. Steeing & Front Axle
The section contains questions on steering system and its mechanisms, front axle, steering gears, power steering and steering factors, camber, castor and king pin inclination.
Steering System
Steering Mechanisms
Front Axle
General Arrangement of Steering System
Steering Gears
Power Steering
Factors of Steering
Camber
Castor
King-pin Inclination
10. Braking System
The section contains questions and answers on braking system, brakes classification, master cylinder, brake valve and testing, air brake and anti lock braking system.
Braking System
Classification of Brakes
Master Cylinder
Brake Valve
Brake Testing
Air Brake
Anti Lock Braking System
11. Automotive Electrical System
The section contains questions on electrical starting and charging systems, ignition system, automobile maintenance, lighting and accessory systems.
Electrical Starting System
Electrical Charging System
Ignition System
Lighting and Accessory Systems
Automobile Maintenance
If you would like to learn Automobile Engineering thoroughly, you should attempt to work on the complete set of questions and answers mentioned above. It will immensely help anyone trying to crack an exam or an interview.
Here's the list of Best Reference Books in Automobile Engineering.
Wish you the best in your endeavor to learn and master Automobile Engineering!